Donate to Win
Beretta APX 9mm Pistol PLUS Crimson Trace CMR-204 Rail Master Pro Universal Green Laser Sight & Tactical Light
Total Retail Value:
$974.00
Donated By:
Beretta USA and Crimson Trace
**** Chosen by Winner:
James S.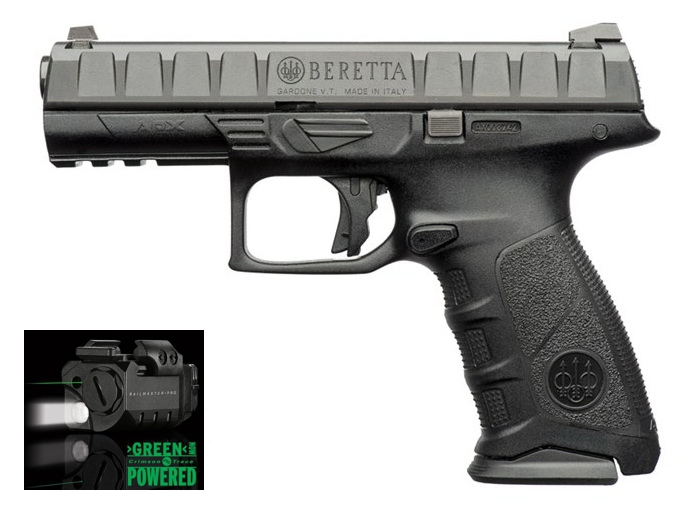 NOTE: Firearm will not be shipped directly to winner, but rather to Federal Firearms Licensee ("FFL") specified by winner (or selected by Knife Rights in Knife Rights' sole discretion). Winner can only take possession of firearm from the FFL. Winner must comply with all applicable legal requirements prior to taking possession of firearm. Winner is responsible for a shipping charge ($40 Pistol Caliber Pistols/$70 Rifle Caliber Pistols and Long Guns) and any fees charged by receiving FFL. Optics and Accessories will ship separately, not via the FFL. Click for complete rules.
The addition of the new APX 9mm ($595) semiautomatic pistol completes the full size pistol portfolio and makes Beretta one of the few manufacturers to offer full size polymer and metallic framed handguns in both hammer and striker fired operating systems.
Designed specifically for military and law enforcement operators, the APX has been put through extensive testing and evaluation at the professional end user level. The result is a pistol that delivers superior performance in durability and reliability, ergonomics, trigger, and modularity. Utilizing a removable, serialized chassis frame, the APX can be easily modified with replaceable grip frame housings and is simple to disassemble and maintain.
Each APX comes with 3 interchangeable back straps so users can best fit their hands and preferences. The APX's aggressive full length slide serrations make slide manipulations easy under any conditions. To accommodate right or left-handed use, the APX's magazine release button can be easily reversed, and the slide stop is ambidextrous.
The APX's trigger breaks at 6lbs and has a clear tactile and audible very short reset. The APX truly is the ultimate striker fired pistol from Beretta.
The Crimson Trace CMR-204 Rail Master Pro Universal Green Laser Sight & Tactical Light ($379) combines two tactical tools in a single compact unit. The versatile unit is designed to fit most modern pistols, rifles and shotguns with an M1913 Picatinny or Weaver-style accessory rail. A powerful green laser anchors the unit and provides up to 1 hour of continuous use on a single CR2 Lithium battery. The Rail Master Pro also includes a powerful 100 Lumen white light for target identification. The unit features three operational modes including: Laser/Light Constant On, Laser Constant On, Light Constant On, and Laser w/Light Dazzler. Activation is instant, with Tap On, Tap Off controls and a programmed Auto Shut Off at five minutes to conserve battery life.
Beretta APS Specifications:
Action: Striker-fire
Barrel length (in): 4.25
Caliber: 9mm
Magazine: 17
Overall height (in): 5.6
Overall length (in): 7.55
Overall width (in): 1.3
Weight unloaded (OZ): 28.24
Crimson Trace CMR-204 Rail Master Pro Specifications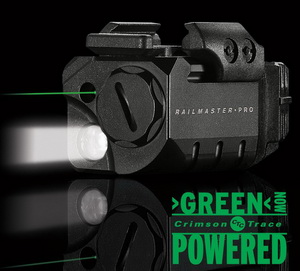 Material: Polymer
Attachment: Accessory Rail
Activation Location: Switch Activation
Sighting: Factory Sighted at 50'
Battery Type: One CR2 Lithium Battery
Laser Output: Up to 5mW Green Laser
Activation Mode: Switch Activated
Laser Visibility: Approx .5 Inch Diameter at 50 Feet
User Adjustable: Windage and Elevation
Installation: User Installed
Warranty: Three Year Full Warranty
Color: Black
Dot Size: Approx. 0.50" at 50'
Light Output: 100 Lumen LED White Light