Total Retail Value:
$572.91
Donated By:
BOG
**** Chosen by Winner:
Robert G.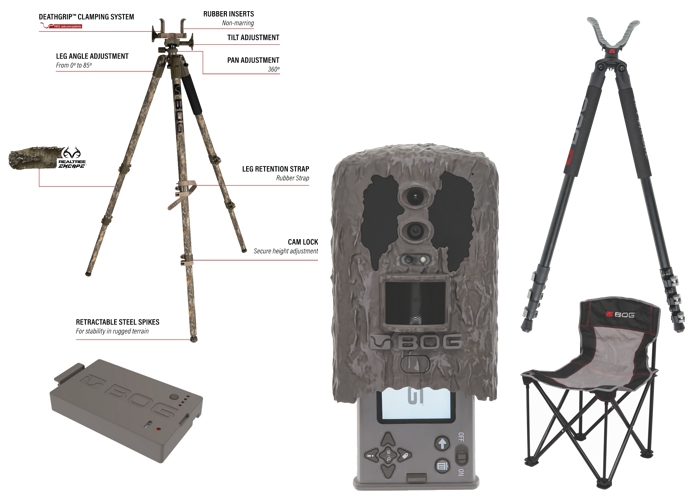 Blood Moon Game Camera ($229.99) Designed to solve common game scouting pain-points and provide best-in-class imagery, the BOG® Blood Moon™ infrared game camera "burst" onto the scene in 2020. This dual-sensor game camera has been tabbed by Petersen's Bowhunting as having "Astronomical Imagery." It boasts the patent-pending BOG® Dominion™ removable menu system, featuring a 3" full-color viewing screen with an extremely easy to use, icon-based operating system. The Blood Moon™ also features a lightning-fast .04 second trigger speed, 5 capture modes (including 1080 FHD video w/ auto-adjust flash), up to 1-year battery life, 120' flash range, and a large variety of image tag information designed to help you track your deer herd to the precise moment, location, and climatic condition. The Blood Moon™ was designed from the ground up to put in the blood, sweat, and tears necessary to "Capture the Unknown" and help you be a better hunter. Batteries not included.
BOG Omnipotence Li-Ion Battery Pack ($22.99) The BOG Omnipotence Rechargeable camera Battery Pack is a great way to power your BOG camera.
The Camo DeathGrip Tripod ($199.99) is engineered to be the most stable precision tripod on the market. The carbon fiber legs reduce its overall weight making it highly portable without sacrificing stability. The strength of the carbon fiber legs decreases the amount of flex, making this precision tripod extremely accurate for even the beginning hunter. Its patented clamp securely locks down any weapon for a hands-free, rock-solid rest.You asked we listened! New for 2021 is the BOG® Camo DeathGrip®. The more reclusive brother to the ever-popular aluminum DeathGrip®, this tripod has all of the same great features, but now carries the Realtree® EXCAPE™ camo pattern. Take on your UNKNOWN season after season with the DeathGrip® Camo.
The Adrenaline Bipod Lever Lock ($78.99) from BOG™ is (over)engineered for your UNKNOWN. The Adrenaline is designed for all hunting situations, from a turkey hunt out of a blind to chasing elk in the dark timber. Built for the utmost in portability, versatility, and stability, the adrenaline features lever leg locks, retractable metal foot spikes, and the patented Switcheroo® system. The Switcheroo system allows for quick changes between optics accessories and the USR shooting yoke.
The 4 On The Floor Chair ($40.99) is the epitome of all-day comfort, wrapped up in a lightweight package. Constructed with a lightweight yet durable aluminum frame, this chair weighs in at just 5.5 lbs while supporting up to 400 lbs. The ultra-comfortable textilene fabric, combined with a generously sized seat and extended height makes this the perfect chair for any blind application.