Donate to Win
Bond Arms Nickel Boron Special Edition .45LC/.410 Derringer
Retail Value:
$704.00
Donated By:
Bond Arms
**** Chosen by Winner:
Donald L.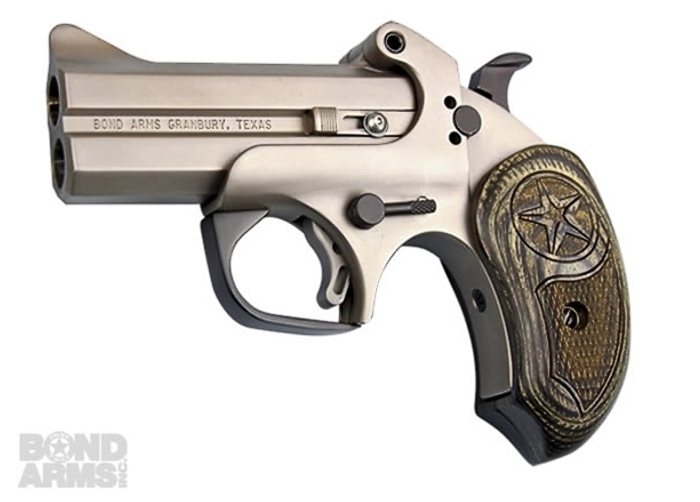 NOTE: Firearm will not be shipped directly to winner, but rather to Federal Firearms Licensee ("FFL") specified by winner (or selected by Knife Rights in Knife Rights' sole discretion). Winner can only take possession of firearm from the FFL. Winner must comply with all applicable legal requirements prior to taking possession of firearm. Winner is responsible for a shipping charge ($40 Pistol Caliber Pistols/$70 Rifle Caliber Pistols and Long Guns) and any fees charged by receiving FFL. Optics and Accessories will ship separately, not via the FFL. Click for complete rules.
The Bond Arms Nickel Boron gun is a very special edition! This Nickel Boron gun may look elegant to the eye, but it is a beast of a gun. With this nickel boron coating makes it more scratch resistant and more durable than a normal stainless steel model. It comes with a 3.5" barrel in a .45/.410 caliber, black accents and extended black ash grips with a star in star design on each side. A tank of a gun to get you through just about any situation!
STANDARD FEATURES:
Stainless steel double-barrel and frame
Compatible with all standard Bond Arms barrels
Automatic spent casing extractor
Patented rebounding hammer
Retracting firing pins
Cross-bolt safety
Spring-loaded, cammed locking lever
Specifications:
Caliber: .45LC/.410
Barrel: 3.5"
Grip: Extended Black Ash
Sights: Front Blade, Fixed Rear
Length: 5.5"
Weight: 22 oz.