Total Retail Value:
$775.00
Donated By:
Walter & Kay Brend
**** Chosen by Winner:
Paul N.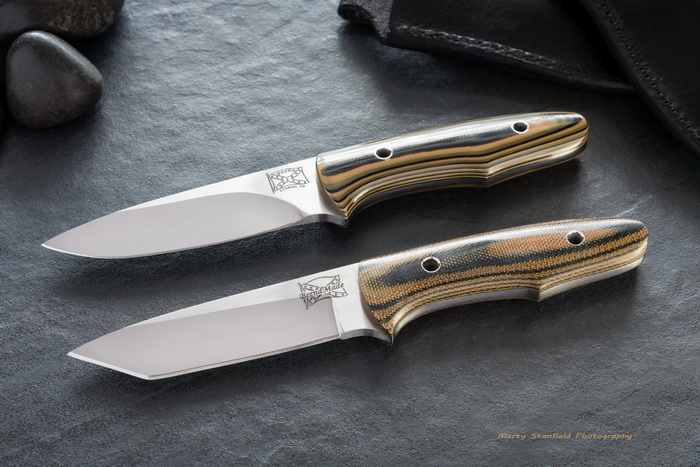 Walter Brend (top) / Kay Brend (bottom)


Walter Brend, an acclaimed knifemaker, has been a long-time supporter of Knife Rights, donating knives in previous Ultimate Steels. With his wife Kay having decided just this year to take up the craft under the tutelage of the master, we suggested that a His & Her set of knives from the pair would make a unique donation, and they agreed!.
Kay came up with a design and has started making a few of her own knives, including this Tanto (bottom) ($325).  As his contribution to this His & Her project, Walter made his own version of Kay's design, the Drop Point (top) ($450), which is very unique since Walter generally doesn't make any fixed blades this small.

Both knives have a 4-inch hollow-ground blade of Carpenter PSF27 high carbon semi-stainless steel, 8 inches overall, with Micarta handle scales. Each comes with a Black Leather Pouch Sheath.

Blade Length: 4 inches

Blade Thickness: 0.156 inch

Overall Length: 8 inches


Blade Material: Carpenter PSF27 Stainless Steel




Blade Grind: Hollow

Blade Finish: Mirror Satin

Handle Material: Micarta

Sheath: Leather, Pouch Style