Donate to Win
Custom Walter and Kay Brend His & Hers Damascus Fixed Blades
Total Retail Value:
$7,000.00
Donated By:
Walter & Kay Brend, Mark Knapp and Nichols Damascus
**** Chosen by Winner:
Darien M.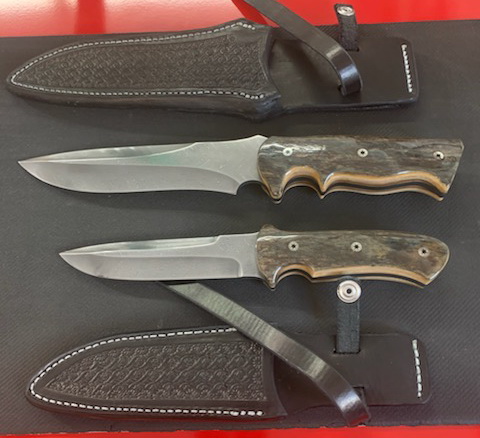 NOTE: It is not legal for residents of California, Hawaii, Illinois, New York and New Jersey to receive this prize due to these states' ban on ivory trade that includes 10,000-year-old fossil ivory. Click for complete rules.
Walter Brend, an acclaimed knifemaker, has been a long-time supporter of Knife Rights, donating knives in previous Ultimate Steels. With his wife Kay having decided just in 2019 to take up the craft under the tutelage of the master, we suggested that a His & Hers set of knives from the pair would make a unique donation, and they agreed!. For 2021, with the support of our good friends Nichols Damascus and Mark Knapp, they are kicking it up a notch with iconic donations to this year's Ultimate Steel.
Chad Nichols generously donated the Damascus and Mark Knapp Custom Knives donated the Alaskan Mammoth Ivory.

Walter is crafting one of his iconic Model 2 fixed blades with a 7.5-inch blade of Nichols Stainless Damascus and a 7-inch Mammoth Ivory handle.*
Kay is crafting a Chute Knife with a 5.5-inch blade of Nichols Stainless Damascus and a 5-inch Mammoth Ivory handle.*
* final dimensions may vary