Donate to Win
Custom David Broadwell Presidential Thomas Jefferson Desk Set
Retail Value:
$3,500.00
Donated By:
Broadwell Studios
**** Chosen by Winner:
Marvin D.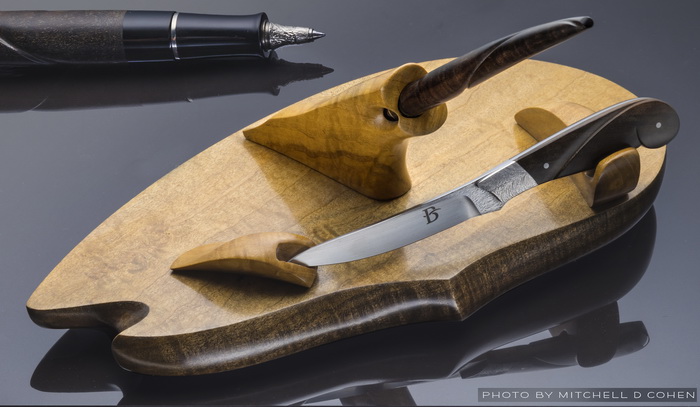 David Broadwell's Presidential Thomas Jefferson Desk Set consists of a roller ball pen and a desk knife using wood certified as being from a Tulip Poplar planted by Thomas Jefferson on his estate, Monticello, salvaged by Historical Woods of America. Broadwell designed and created this entire masterpiece. Truly a study in free-form design.
Jefferson was known to have planted a number of tulip poplar tree off the southwest corner of Montecillo. Hollow for many years, it finally died in 2008 and was removed by Historical Woods of America in June of 2008. In his Weather Memorandum Book on April 16, 1807, Jefferson noted planting "1. Laurodendron in margin of SW [shrub circle] from the nursery." This is the exact spot that this poplar tree was growing. The Thomas Jefferson Foundation believed that this was enough evidence to consider and promote this tree as the only one on the property that was definitely original and planted by Jefferson. The ring count taken at the time of salvage also indicated that this tree was alive when Jefferson lived there.
All of the wooden parts have been carved in Broadwell's signature organic style, and various metal components have his signature texturing. The base and its components have a hand rubbed oil finish. 
This one of a kind project was built to be displayed with the National Treasures exhibit that was created by William Jewell of Historical Woods. He selected 30 fine artisans to create contemporary, custom sculptures and functional art to showcase the beautiful, historical woods from his operation. Broadwell was the only knife maker to be chosen as a part of this elite group.
The knife blade is 154CM high carbon stainless steel. The blade is heat treated and ground like any proper knife and it is sharpened. Bolsters are stainless steel with a feather texture pattern. The scales are carved from a darker, stabilized piece of Jefferson's Tulip Poplar.
The pen uses black acrylic and the same darker stabilized Tulip Poplar. It takes a modern roller ball refill, Schmidt 5888 or similar.