Total Retail Value:
$414.95
Donated By:
American Outdoor Brands' Bubba
**** Chosen by Winner:
Bruce R.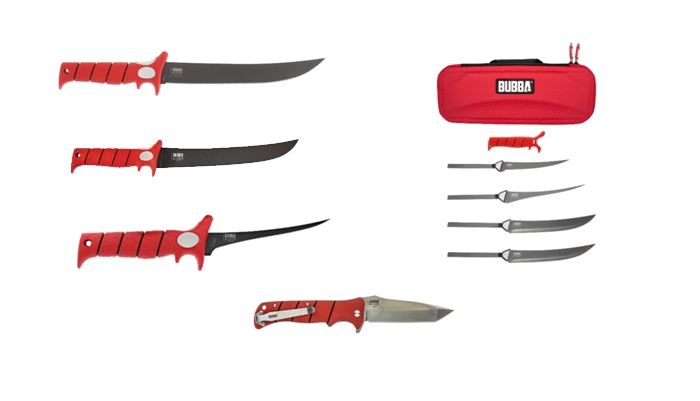 9" Serrated Flex Knife ($79.99) The 9" Serrated Flex Knife is the ideal fillet knife for anglers who target large-scale fish. This knife does it all—from filleting to cutting through large bones. The 9" Serrated Flex has been engineered with enhanced teeth serrations to deliver maximum cutting power on the toughest of fish. Developed with the same quality craftsmanship as our traditional fillet knives, the 9" Serrated Flex comes equipped with our signature ergonomic handle and iconic non-slip grip for ultimate comfort while filleting. The blade is constructed of high-carbon stainless steel and coated with Titanium Nitride for superior corrosion resistance. The 9" Serrated Flex comes with a deluxe sheath and lanyard hole for added security while on the water. Cut like a pro with the 9" Serrated Flex Fillet Knife.
12" Flex Fillet Knife ($74.99) Take a chance on this 12-inch flex fillet knife when cleaning your prized possession. This razor-sharp flex stands out from the others in size and performance. If you are a bold fisherman, use this knife for your biggest keepers. We use our same trusted non-slip-grip handle so that you can show it who's boss. The full tang construction and high carbon stainless-steel blade bring you a clean cut every time.
6" Ultra Flex Knife ($54.99) Similar to its big brother, this 6-inch Ultra Flex fillet knife comes loaded with extreme flexibility and a ridiculously thin blade. The combination of the two makes this knife essential for your collection. Bring this knife with you because its full tang construction is designed to be your go-to for everything. Whether you're cutting for detail or bone removal, it will be your best friend. Because it is the little brother to the 8-inch knife, it's suited ideally for Crappie or smaller panfish. This secret weapon is your key to success.
4" Sculpin Blade ($64.99) This Sculpin Pocket Knife folds up nicely to fit in your jeans or jacket pocket. It's handy for on-the-go or out at the fishing docks. The deep pocket clip allows the blade to be upward and has a liner lock safety mechanism. Although smaller in stature, it's the kind of knife everyone wishes they had and is durable enough to withstand any condition you put it through. Carry this knife with you wherever you are. It'll do all the work, so you don't have to.
Multi-Flex Full Tang Interchangeable Set ($139.99) A first of its kind, the Multi-Flex™ is the ultimate fillet knife for any type of fisherman. Featuring four different full-tang blades (7" Tapered Flex, 8" Ultra Flex, 9" Serrated Flex, 9" Stiff), the Multi-Flex brings the best of Bubba all into one set. An easy-to-use squeeze and slide mechanism allow you to switch between blades quickly and seamlessly while the Flex-Change™ locking system keeps the blade safe and secure. Our signature Bubba non-slip grip handle provides a consistent and classic feel to our new style of knife. The Multi-Flex™ comes in a premium EVA carrying case with a puncture-resistant inner lining, removable tray for easy cleaning, and a magnetic insert for blade security. The fillet knife will forever be changed.