Total Retail Value:
$434.95
Donated By:
American Outdoor Brands' Bubba
**** Chosen by Winner:
Leon P.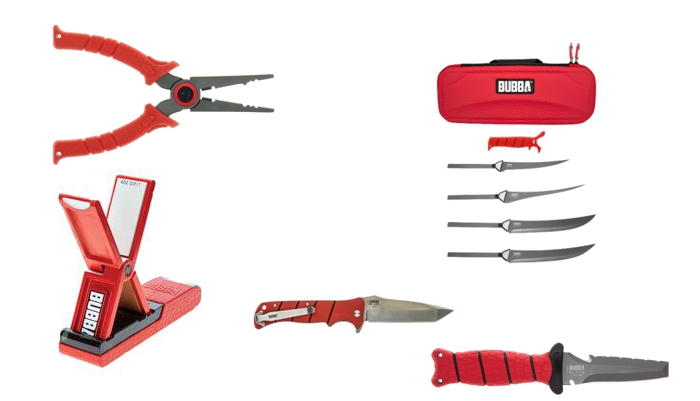 Multi-Flex Full Tang Interchangeable Set ($139.99) A first of its kind, the Multi-Flex™ is the ultimate fillet knife for any type of fisherman. Featuring four different full-tang blades (7" Tapered Flex, 8" Ultra Flex, 9" Serrated Flex, 9" Stiff), the Multi-Flex brings the best of Bubba all into one set. An easy-to-use squeeze and slide mechanism allow you to switch between blades quickly and seamlessly while the Flex-Change™ locking system keeps the blade safe and secure. Our signature Bubba non-slip grip handle provides a consistent and classic feel to our new style of knife. The Multi-Flex™ comes in a premium EVA carrying case with a puncture-resistant inner lining, removable tray for easy cleaning, and a magnetic insert for blade security. The fillet knife will forever be changed.
4" Sculpin Blade ($64.99) This Sculpin Pocket Knife folds up nicely to fit in your jeans or jacket pocket. It's handy for on-the-go or out at the fishing docks. The deep pocket clip allows the blade to be upward and has a liner lock safety mechanism. Although smaller in stature, it's the kind of knife everyone wishes they had and is durable enough to withstand any condition you put it through. Carry this knife with you wherever you are. It'll do all the work, so you don't have to.
Ultra Knife Sharpener (74.99) The Ultra Knife Sharpener is the complete solution for all your BUBBA sharpening needs. No matter the condition or skill set, easily and effortlessly sharpen any knife! The locking system adjusts from 19 to 26 degrees on either a medium 400 grit stone to a fine 180 grit. The Ultra Knife Sharpener bridges the gap between a novice knife sharpener to an experienced commercial sharpener with no effort.

Scout™ 4" Blunt Dive Knife ($84.99) The Scout 4" Blunt Knife is the optimal knife for scuba diving, snorkeling, and everyday diving. This knife is built to be an all-purpose tool, ideal for a variety of operations. The blunt tip provides the protection against accidental gear and hose cuts. The Scout 4" Blunt Knife features a full-tang, Titanium-Nitride coated, high-carbon stainless steel blade for unmatched durability and strength. The blade not only has a precisely ground, razor sharp edge, but also a serrated edge for ultimate cutting versatility. The handle is ergonomically designed to comfortably fit any hand and, as always, is engineered with our iconic, non-slip grip to provide maximum control, no matter the conditions. Finally, the Scout 4" Blunt Knife includes a deluxe locking sheath with adjustable rubber straps to provide a body hold system that is built for easy and safe one-handed use. Scout Pointed Knife also available.
Stainless Steel Pliers ($69.99) The Bubba Stainless Steel Pliers bring a new level of strength and durability to fishing pliers. Developed with premium, high-carbon stainless steel and a titanium nitride coating, these pliers are purpose-built to withstand extreme duress and resist corrosion. They come equipped with carbide cutters, crimping cutouts and are spring-loaded, so they are always ready to go. The Stainless Steel Pliers also provide a high-end, molded polymer sheath with belt clip that allows for easy one-handed access and secure storage. On top of all this, they are engineered with our iconic, non-slip grip for maximum control. These are the last set of fishing pliers you will ever need.