Donate to Win
Bushmaster Firearms Vintage Assault Rifle #F00794 (5.56mm)
Retail Value:
$1,000.00
Donated By:
Knife Rights Supporter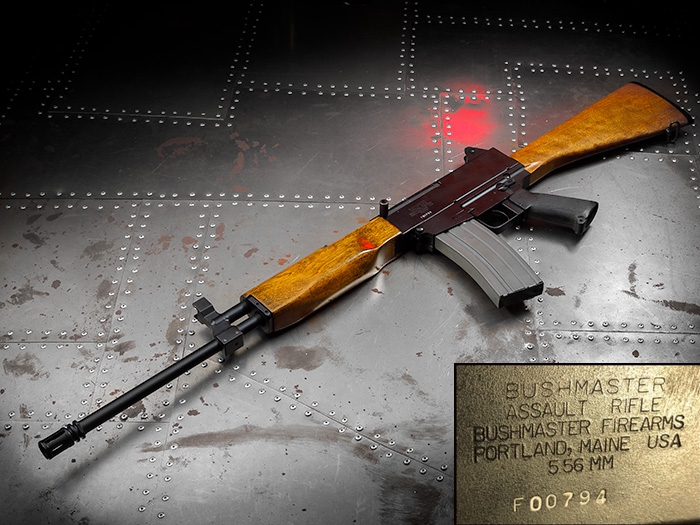 NOTE: Firearm will not be shipped directly to winner, but rather to Federal Firearms Licensee ("FFL"). Winner must comply with all applicable legal requirements prior to taking possession of firearm. Click for complete rules.

Originally designed by Vietnam Special Forces Veteran Mark Gwinn Jr, the Gwinn Assault Rifle was the same design principle as the Arm Pistol. It was made by the Gwinn Arms Company. Gwinn Arms Company of Winston-Salem, North Carolina, were in business from 1972 -1974 before Gwinn went bankrupt and Quality Parts (reformed as Bushmaster) bought them out.
The Gwinn/Bushmaster Assault Rifle was an early attempt to combine the ruggedness of the AK with the ease of manufacturing of the ArmaLite AR-180.  It is a long-stroke gas piston rifle with an AR style bolt and fire control group influenced by the Stoner 63A Gwinn carried in Vietnam. The design was mostly sound and simple, but the manufacturing was quite crude. Mostly, it was affordable. Production ceased in the 1980s (eventually, Bushmaster became much better known for making AR-15 rifles).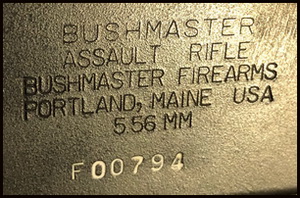 View a recent video about this rifle by Forgotten Firearms at: https://youtu.be/33JadSsWyyo
This is serial number F00794 of reportedly 1,000 initially produced
WARNING: This is a vintage, used, collectible firearm. It may not be in safe or usable condition and is delivered with no warranty or assurance that is safe to fire.  Review Rules Below in regards to firearms prizes. If winner desires to fire this rifle is should be inspected by a competent gunsmith to ensure it is safe for use. It is deliverer "as is." Any repair required is the responsibility of the winner.