Total Retail Value:
$714.92
Donated By:
Caldwell Shooting Supplies
**** Chosen by Winner:
Jeff N.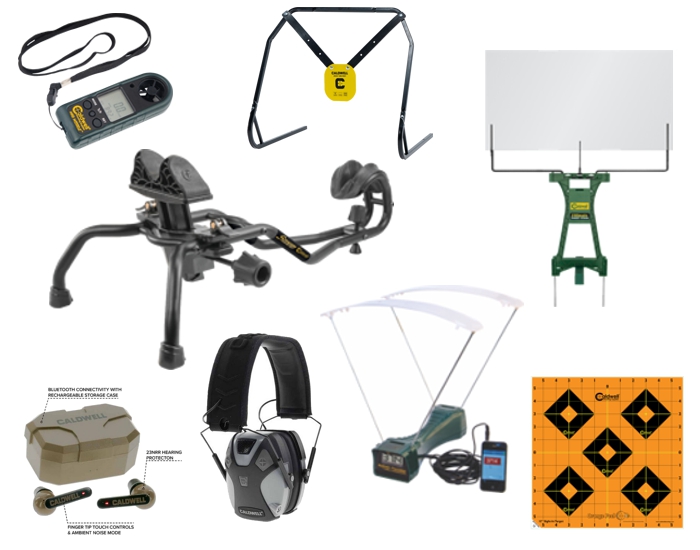 The good folks at Caldwell have put together a great Shooter's Package with an assortment of gear to help get the most out of your firearms.
Ballistic Precision Chronograph Premium Kit ($154.99) contains everything you need to capture reliable velocity data in one convenient kit. Includes Chronograph, IR LED Light Kit, Tripod and Custom Carry Case that conveniently holds all items.The Ballistic Precision Chronograph provides accurate velocity measurements across a wide range of shooting conditions. Higher accuracy was achieved by using a high speed 48 MHz processor and by designing a circuit with an advanced data interface that allows each unit to be computer calibrated at the factory after assembly. The end result is the ability to provide much better accuracy than other chronographs on the market (+/- .25%). Although technologically advanced, the unit is designed to be simple to operate, displaying velocity in feet per second or meters per second on the large built in LCD screen. The Chrono can also deliver the shot string velocity data through the 15′ foot audio jack cable (included) to an smartphone or mobile device. A free App is available for download that displays the velocity of each shot on the phone screen and records it with other data identifying the load and environmental conditions. The app also automatically calculates Average Velocity, Standard Deviation, Min, Max and Velocity Spread for the shot string. The data is stored and can be exported via email or simply recalled for reference at a later date. The sunshades are extra wide for better reliability on sunny days and are constructed of a durable synthetic material. Measures from 5 to 9,999 FPS. There is a ¼-20 threaded insert on bottom of housing for tripod mounting, operates on a 9 Volt battery (not included).
Notice for California consumers: ⚠ Warning: Cancer and Reproductive Harm - www.P65Warnings.ca.gov
Features
Tripod height adjustable from 15"-42"
Includes 1/4-20 dovetail plate
Custom carry case is constructed of durable ballistic fabric with heavy duty dual zipper design
Simple operation, large LCD screen
E-MAX® FDE Shadows ($149.99) The E-Max Shadows are Bluetooth, rechargeable electronic ear plugs designed to go where you go, play all your music, and keep your ears protected. High quality stereo sound is Bluetooth compatible with your mobile device and comes with a 23dB noise reduction rating. Dual microphones provide directional clarity and come equipped with easy to use touch volume controls. The charging case comes with an integrated lithium battery.
Features:
23db noise reduction
Battery Life: 5 Hours per charge
Includes a case that can recharge the earplugs 4-5 times
Bluetooth Pairing with phones or other capable devices for music or phone calls
Multiple ear tips included
Adjustable ambient sound amplification
Portable Range Kit with 8" AR500 Target ($104.99) The AR500 Gong and Target Stand Combo combines the new Caldwell AR500 Steel with the classic setup of the Caldwell Gong Target system. This set includes everything you need for a great day at the range - an 8" AR500 Gong Target that will withstand thousands of rounds, a collapsible steel stand for easy transport, and our XL Strap Hangers to hold up your target for plenty of trips to the range.
Stinger Shooting Rest ($102.99) is built with a state of the art design. Central to the design is the innovative front elevation system. It's user-friendly spring loaded, height adjustment knob allows for fast, one handed coarse elevation adjustment. The molded front and rear supports protect the gun's finish and provide just the right amount of firmness for rock solid shots. A heavy-duty dual metal frame and quick cam locks allow the Stinger's front rest to easily slide forward or backwards then lock in place. The Stinger Shooting Rest provides versatility and ultimate stability, delivering you maximum accuracy.
Notice for California consumers: Notice for California consumers: ⚠ Warning: Cancer and Reproductive Harm - www.P65Warnings.ca.gov
Orange Peel® Sight-In Targets 100 pack ($92.99) Get on target with Orange Peel® Targets by Caldwell®! Orange Peels let you see hits ON and OFF the target with dual-color flake-off technology that makes your hits look like colorful explosions. If your shot happens to miss the bullseye, you will know exactly where your bullet strayed…. instantly. The orange background and black target make target acquisition through the scope easy, even at long distances. Caldwell® makes these great targets in almost every size and shape imaginable.  Notice for California consumers: ⚠ Warning: Cancer and Reproductive Harm - www.P65Warnings.ca.gov
E-MAX® Pro Series - Gray ($44.99) The E-Max Pro high quality electronic hearing protection from Caldwell delivers style and comfort for all day use, plus it comes in youth and adult sizes and an array of colors. With a 23dB noise reduction rating and a low profile design, you can stay comfortable and protect your hearing on the range. High quality stereo sound keeps what you want to hear crystal clear and easy to use push button volume controls allow easy adjustments. Runs on AAA batteries.
23dB Noise Reduction Rating - High quality stereo sound
Low-profile design for uninterrupted cheek weld - Compact folding design
Easy to use push button volume controls - Illuminated on/off indicator - Auto-shutoff (4 hours without touching controls)
Runs on 3 AAA Batteries (included) - Compatible with Caldwell's Rechargeable Lithium-Ion Battery Pack (sold separately)
Wind Wizard II ($41.99) has been redesigned to be the best value wind meter on the market and an ideal tool for indicating wind speed. Knowing wind speed gives the shooter the ability to judge shot placement in varying wind conditions. Both compact and portable, this wind meter reads wind and temperature in various units of measure. The non-slip rubber sleeve protects the unit and ensures it's easy to grip even with gloved hands. Operates on one CR2032 battery (included). Notice for California consumers: ⚠ Warning: Cancer and Reproductive Harm - www.P65Warnings.ca.gov
Ultimate Target Stand ($21.99) features an oversized backer to hold multiple large targets (two 16″ targets side by side) and is constructed of an all-weather moisture resistant material. The large size makes sighting in easy, no more bullets missing the target. The modular frame design collapses to occupy much less space during transport & storage. The frame arms are constructed of durable steel rod and hold the backer securely in place. Removable ground stabilizer adds support from wind during use and conveniently stows onto the feet. The base of the stand is open, allowing you to use your foot to drive the molded-in metal spikes solidly into the ground. It even has an integrated storage container for holding miscellaneous range supplies such as staples or target pasters. Notice for California consumers: ⚠ Warning: Cancer and Reproductive Harm - www.P65Warnings.ca.gov