Donate to Win
CAS Iberia: Limited Edition Paul Chen / Hanwei Koi Katana & Wakizashi
Total Retail Value:
$2,355.00
Donated By:
CAS Iberia
**** Chosen by Winner:
Douglas Y.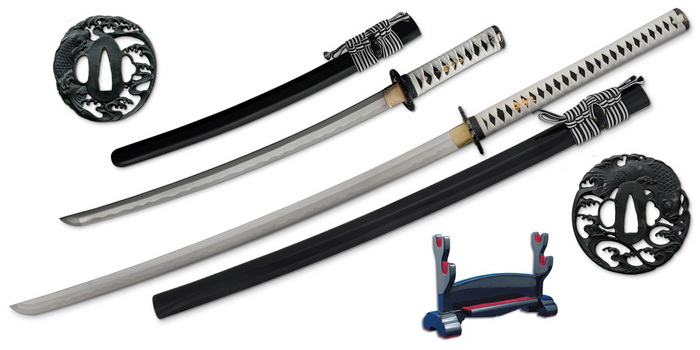 The Koi Katana and Wakizashi  ($1,290 & $895) from Paul Chen have hand-forged T10 high-carbon steel blades. The blade on these are differentially hardened using the traditional claying method. These fine peices are mounted in black and white and features black same, the tsuka-ito is made of premium white Japanese cotton. The saya is finished in a deep black lacquer with a black and white striped cotton sageo. A finely rendered Koi, with true front-and-back detail, forms the black iron tsuba. The fittings are superbly antiqued adding to the aesthetics of the piece. The Koi Katana and Wakizashi from Hanwei  are each is supplied with a protective cloth bag and traditional maintenance kit.  A Black Lacquered Double Sword Display Stand ($170) for the set is included.
It is said that a Koi swims up rivers and climbs waterfalls with bravery not unlike a Samurai warrior. As well, it is said that if a Koi is caught, it will lie still beneath the knife, facing its death bravely like a Samurai facing a sword.
Katana Specifications:
Overall: 44 3/4"
Blade Length: 28 1/2"
Handle Length: 14 3/4"
Weight: 2lb 13oz
Point of Balance: 5 1/4"
Sori: 1 1/8"
Blade Steel: T10
Wakizashi Specifications:
Overall: 27 7/8"
Blade Length: 19 5/8"
Handle Length: 6 1/2"
Weight: 1lb 7oz
Point of Balance: 4 1/4"
Sori: 1"
Blade Steel: T10