Donate to Win
Casstrom No. 10 Swedish Forest Knife K720/Scandi/Curly Birch
Retail Value:
$190.00
Donated By:
CAS Iberia
**** Chosen by Winner:
Drew L.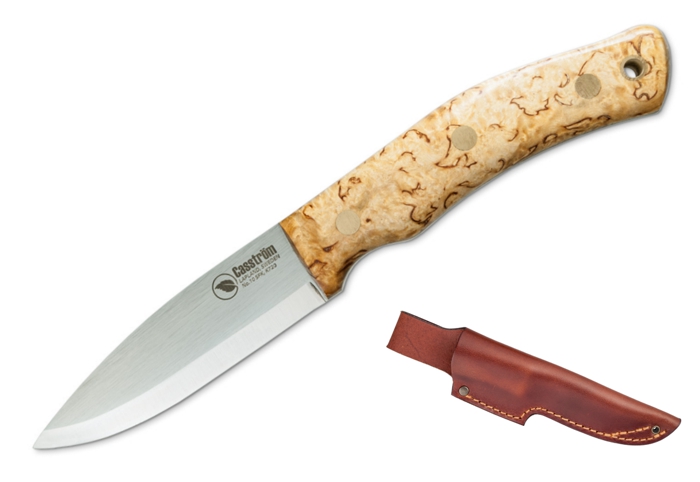 This great new knife is built as a multipurpose knife for hunting, bushcraft and general use in the great outdoors. The blade is 3 7/8" long and made using 3.8mm thick Austrian made O2 high carbon tool steel (Böhler K720) and heat treated to achieve a hardness of 58-60 HRC. The knives are ground with a shaving sharp flat Scandinavian grind and have a satin finish. This steel in combination with the grind makes these knives very strong, yet very easy to sharpen and it takes a great edge.
The handle is Curly Maple. There are black liners between the handle scales and steel to enhance durability over time. The wood has been treated with a traditional Scandinavian linseed oil based varnish.
The knife comes with a sturdy welted sheath made from black 3mm vegetable tanned full-grain leather. The sheath features an extra wide belt loop, a fluid draining hole and a lanyard hole.
Böhler Tool Steel K720 is a very tough and strong oil hardened high carbon tool steel. The chemical composition allows it to be hardened to a high degree whilst maintaining ductility and toughness at the same time as it is easy to sharpen and can obtain a razor sharp edge. Whilst easy to sharpen, the low chromium content means it will tarnish if left wet and it must therefore be wiped after use and protected by oil or wax when put away for storage. Steel analysis: C. 0.9%, Si. 0.25%, Mn. 2.0%, Cr. 0.35% V. 0.1% (HRC 58-60)
Overall: 8 3/4"
Blade Length: 3 7/8"
Handle Length: 4 7/8"
Weight: 7oz
Blade Steel: O2
Handle Material: Curly Birch