Donate to Win
Custom Cliff Parker Fear The Reaper Damascus Linerlock Folder
Retail Value:
$1,600.00
Donated By:
Cliff Parker
**** Chosen by Winner:
Andrew K.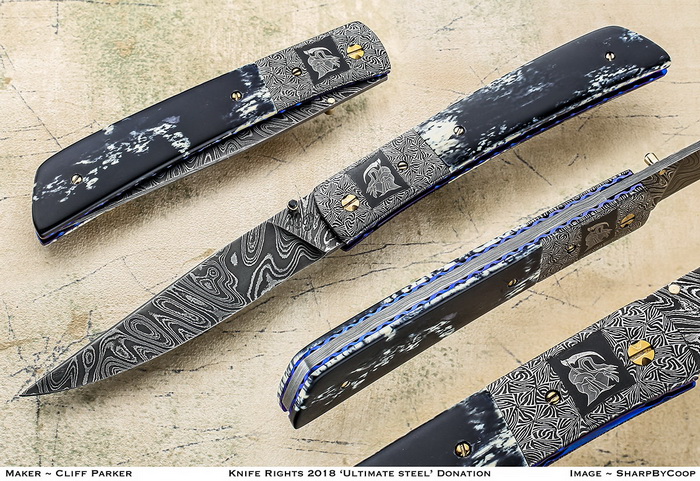 NOTE: It is not legal for residents of California, Hawaii, Illinois, New York and New Jersey to receive this prize due to these states' ban on ivory trade that includes 10,000-year-old fossil ivory. Knife Rights is not responsible for determining legality. Winner is responsible for compliance with all state and local laws governing the receipt and possession of fossil ivory items in the winner's jurisdiction. Click for complete rules.

Cliff Parker creates knives that push the limits of what is possible. This exquisite Fear The Reaper Damascus Linerlock Folder is a very sleek profile with a total thickness of just 0.281 inches! Due to the complexity of the mechanism, liner locks tend to be fairly thick, but Cliff has managed to build linerlock folders that are both sturdy and incredibly thin and low profile as possible.
The 2.812-inch blade is formed from Cliff's Random pattern Damascus (1084 & 15N20) steel. The bolsters are of Cliff's signature Mosaic Damascus, in this case featuring a Grim Reaper embedded within the Damascus. Handles scales are Mammoth Ivory , which Ivory is also inset into the thumb stud. Screws are heat colored stainless. The blue anodized titanium liners are meticulous hand fileworked.