Donate to Win
Daniel Defense DELTA 5 .308 Rifle PLUS Daniel Defense DD WAVE 7.62 Suppressor PLUS Powered by Silencer Shop Package PLUS Leupold VX-3i 6.5-20x50mm Rifle Scope
Total Retail Value:
$4,690.00
Donated By:
Daniel Defense, Leupold and Stevens and Silencer Shop
**** Chosen by Winner:
Teresa K.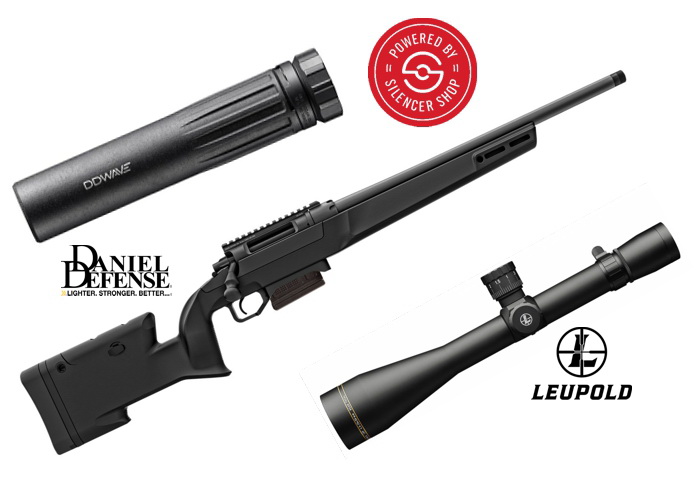 NOTE: Firearm and optional suppressor will not be shipped directly to winner, but rather to Federal Firearms Licensee ("FFL") specified by winner (or selected by Knife Rights or Hill Country Class 3 LLC d.b.a. Silencer Shop (Silencer Shop), in Knife Rights' and Silencer Shop's sole discretion). Winner can only take possession of firearm and suppressor from the FFL(s). Winner must comply with all applicable legal requirements prior to taking possession of firearm or suppressor. Winner is responsible for shipping charge ($40 Pistol/$70 Rifle Caliber) and any fees charged by receiving FFL. Click for complete rules.
The Daniel Defense DELTA 5™ .308 ($2,199) Designed with the user in mind. Daniel Defense has taken the modularity of the AR platform and integrated it into a one-of-a-kind bolt action rifle. From an interchangeable cold hammer forged barrel to a user-configurable stock, the DELTA 5 features out-of-the-box customization that would normally require professional gunsmithing. Designed for the user that expects more from their rifle, the DELTA 5 provides the ultimate long range shooting experience from the day its purchased. No custom wait time required.

Specifications:
Mounting System M-LOKCaliber .308.Win


Muzzle Thread 5⁄8×24 TPI (Threads Per Inch)

Barrel Length 20"

Barrel Profile Heavy Palma


Length 40" Max

Magazine Magpul PMAG 5 7.62 AC

User-interchangeable, stainless steel cold hammer forged to contour

ACTION: Mechanically bedded stainless steel action with integral recoil lug

BOLT: Three-lug bolt with a 60 degree throw and floating bolt head

BOLT KNOB: 5/16 - 24" removable bolt knob

TRIGGER: Adjustable single stage Timney Elite Hunter with two position safety (1.5 – 4 lbs)

PICATINNY SCOPE BASE: 20 MOA/ 5.8 MRAD of elevation with four #10-32 bolts

BOTTOM METAL: Integrated with pillars and barrier stop

ERGONOMIC STOCK: Constructed of carbon-fiber-reinforced polymer

ADJUSTABLE CHEEK RISER: For preferred height, yaw, and drift

CONFIGURABLE BUTTSTOCK: Offers length of pull and butt pad height adjustments

ATTACHMENT: 14 total M-LOK points along forend with one point on bottom of buttstock

QUICK DETACH: Three M-LOK QD sling points

CAPACITY: Five round PMAG 5 7.62 AC – AICS Short Action magazine included
The Daniel Defense DD WAVE 7.62 Suppressor's ($852) advanced cascading baffle geometry more effectively attenuates sound than simpler baffle styles. The DD WAVE's unique one-piece, 3D-printed Nickel Based Superalloy baffle/tube eliminates the need for welds—typically the weakest points of a traditional suppressor—providing unmatched strength and durability. Our ACME Thread Quick-Clamping System won't carbon lock, and securely clamps the suppressor to a 17-4 PH stainless steel muzzle device, making it easy to remove even after extended use. Constructed of nickel based superalloy, stainless steel, and titanium—and then Cerakote coated—the DD WAVE 7.62 is fiercely strong yet lightweight, making it durable, and reliable for full auto use.
Powered By Silencer Shop Package (Retail Value $335): If you choose to accept the suppressor prize, but are new to the suppressor world, DON'T WORRY! Silencer Shop is powering every step of the transaction. All required paperwork and fees will be handled for the recipient utilizing the nationwide Powered By Silencer Shop network of dealers. Silencer Shop is including the following*:

FREE NFA Gun Trust
FREE Tax Stamp Payment
FREE Transfer to the Powered By Silencer Shop Dealer of Your Choice
* Additional rules apply for suppressors. Click for complete rules.
Leupold VX-3i 6.5-20x50mm Rifle Scope ($1,300) A good piece of glass can mean the difference between first or second round hits at 1000+ yards or hours of frustrations. The VX-3i LRP 8.5-25x50 gives you the right magnification, elite optical performance, and long-range tools you need to take your shooting to the next level.
The name says it all – Long Range Precision (LRP). This scope is purpose built with match-grade accuracy and repeatability. Choose between first or second focal planes, MOA or MIL adjustments, and several magnification options. With easy-to-read adjustment dials and an integrated, quick-turn throw lever, the VX-3i LRP will help you push your limits. Top that off with Leupold's Twilight Max Light Management System, and you'll be hitting steel from dawn to dusk.
Specifications:
Weight (oz) 22.4
Tube Diameter - 30mm
Linear FOV (ft/100 yd) - Low 11.5
Linear FOV (ft/100 yd) - High 4.6
Linear FOV (m/100 m) - Low 3.84
Length (in) 14.38
Linear FOV (m/100 m) - High 1.54
Length (cm) 36.5
Eye Relief (in) - Low 5.31
Eye Relief (in) - High 3.70
Eye Relief (mm) - Low 135
Eye Relief (mm) - High 94
Weight (g) 635
Elevation Adjustment Range (MOA) 80
Elevation Adjustment Range (MIL) 23.3
Windage Adjustment Range (MOA) 80
Windage Adjustment Range (MIL) 23.3