Donate to Win
Daniel Defense DELTA 5 .308 Rifle PLUS Crimson Trace CTL-5324 5-Series Tactical Riflescope PLUS Wheeler Picatinny Scope Rings PLUS BOG Carbon Fiber Deathgrip Tripod
Total Retail Value:
$4,516.97
Donated By:
Daniel Defense and American Outdoor Brands' Crimson Trace, Wheeler & BOG
**** Chosen by Winner:
Noah S.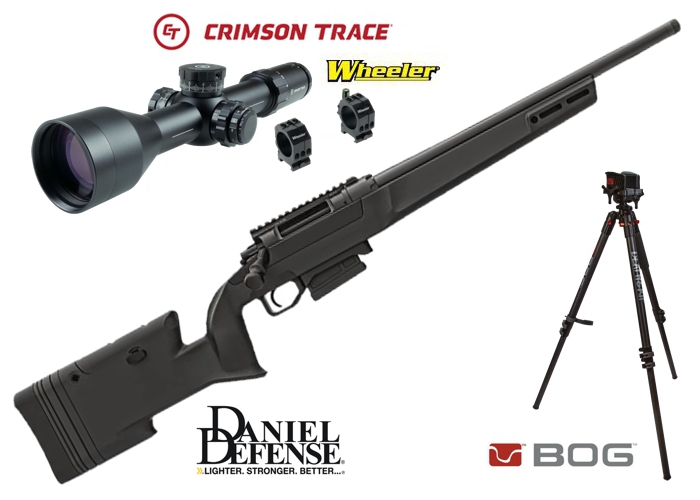 NOTE: Firearm will not be shipped directly to winner, but rather to Federal Firearms Licensee ("FFL") specified by winner (or selected by Knife Rights in Knife Rights' sole discretion). Winner can only take possession of firearm from the FFL. Winner must comply with all applicable legal requirements prior to taking possession of firearm. Winner is responsible for a shipping charge ($40 Pistol Caliber Pistols/$70 Rifle Caliber Pistols and Long Guns) and any fees charged by receiving FFL. Optics and Accessories will ship separately, not via the FFL. Click for complete rules.
The Daniel Defense DELTA 5™ .308 ($2,199) Designed with the user in mind. Daniel Defense has taken the modularity of the AR platform and integrated it into a one-of-a-kind bolt action rifle. From an interchangeable cold hammer forged barrel to a user-configurable stock, the DELTA 5 features out-of-the-box customization that would normally require professional gunsmithing. Designed for the user that expects more from their rifle, the DELTA 5 provides the ultimate long range shooting experience from the day its purchased. No custom wait time required.

Specifications:
Mounting System M-LOKCaliber .308.Win


Muzzle Thread 5⁄8×24 TPI (Threads Per Inch)

Barrel Length 20"

Barrel Profile Heavy Palma


Length 40" Max

Magazine Magpul PMAG 5 7.62 AC

User-interchangeable, stainless steel cold hammer forged to contour

ACTION: Mechanically bedded stainless steel action with integral recoil lug

BOLT: Three-lug bolt with a 60 degree throw and floating bolt head

BOLT KNOB: 5/16 - 24" removable bolt knob

TRIGGER: Adjustable single stage Timney Elite Hunter with two position safety (1.5 – 4 lbs)

PICATINNY SCOPE BASE: 20 MOA/ 5.8 MRAD of elevation with four #10-32 bolts

BOTTOM METAL: Integrated with pillars and barrier stop

ERGONOMIC STOCK: Constructed of carbon-fiber-reinforced polymer

ADJUSTABLE CHEEK RISER: For preferred height, yaw, and drift

CONFIGURABLE BUTTSTOCK: Offers length of pull and butt pad height adjustments

ATTACHMENT: 14 total M-LOK points along forend with one point on bottom of buttstock

QUICK DETACH: Three M-LOK QD sling points

CAPACITY: Five round PMAG 5 7.62 AC – AICS Short Action magazine included
Crimson Trace CTL-5324 5-Series Tactical Riflescope 3-24x56mm MIL/MIL FFP ($1,999.99) The CTL-5324 5-Series™ is a feature rich 3-24x56mm premium long-range rifle scope that has been purposefully built from the ground up. The scope's First Focal Plane (FFP) and impressive Japanese ED glass clarity makes for an unparalleled shooting experience. The custom designed LR1-MIL advanced reticle is fully illuminated and offers quick hold-over points for windage and elevation. The exposed .1 MIL tactical turrets provide a precise and rugged feel when dialing for the most accurate of shots. The entire Crimson Trace Scope Line offers EZ Mount Leveling Indicators for quick and exact mounting and red alignment ring for proper eye placement. All Crimson Trace Scopes are part of the FREE Batteries For Life program and are covered under the Lifetime Protection Guaranteed Warranty.
POWER: The 3-24x56mm scope makes objects seem three to 24 times closer than with the naked eye, featuring a 56mm Objective Lens constructed to meet the needs of precision and tactical shooters who demand the best. Coupled with an Advanced Illuminated Reticle to provide quick target acquisition and adjustments.
FIRST FOCAL PLANE (FFP): Glass etched, LR1-MIL Advanced Illuminated reticle sits in front of the magnification mechanism, scaling to provide correct ballistic hold points at any range. This feature allows the reticle to be sighted in at any part of the magnification scale and precise range measurments. Numerous windage holding points allow for on the fly adjustments during ever-changing environmental conditions. Premium, Fully Multi-Coated ED Glass leads to enhanced image quality across the visual spectrum.
EXPOSED TURRETS with MR1-MIL ADVANCED RETICLE: Allowing for elevation and windage adjustments makes the 5-Series optimal for long range precision, hunting applications while being lightweight. Zero-Stop for simplified return to zero and 2nd rotation indicator. Incredibly forgiving eye-box with diopter adjustment to maintain a focused reticle.
QUALITY MANUFACTURING: Single piece 34mm Anodized Aluminum main tube is constructed to handle the most demanding environments. Waterproof and Fog proof with coated lenses to protect from scratches, oil, and debris. Nitrogen purged and O-Ring sealed.
WARRANTY: Crimson Trace's Lifetime Protection Guaranteed Warranty and FREE Batteries for Life guarantees a lifetime of performance.
Click for Full Features and Specifications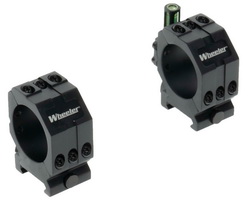 Wheeler 2 Piece Picatinny Scope Rings ($59.99) Securely mount your scope to any picatinny rail. The 6-screw design provides increased clamping force to keep the optic in place during recoil and the integrated articulating anti-cant mechanism helps keep your gun level for your long range shots. Centerline height from top of rail: Low - 0.775 in Medium - 0.950 in High - 1.100 in 
The BOG DeathGrip Carbon Fiber Tripod ($257.99) is engineered to be the most stable precision tripod on the market. Its legs have unmatched durability for hunt after hunt. The patented clamp secures any weapon, hands-free, freeing the BOG™ hunter to glass or call on the hunt with ease. Take on your UNKNOWN season after season with the DeathGrip