Donate to Win
Daniel Defense DDM4 V7 in 5.56mm NATO PLUS Dead Air Silencers Sandman K Suppressor PLUS Powered by Silencer Shop Package PLUS Crimson Trace Hardline Pro 1-10x28 TR1-MIL Tactical Riflescope PLUS Wheeler 1-Piece Cantilever Scope Mount
Total Retail Value:
$4,048.99
Donated By:
Daniel Defense, Dead Air Silencers, Silencer Shop and American Outdoor Brands' Crimson Trace and Wheeler
**** Chosen by Winner:
Steve B.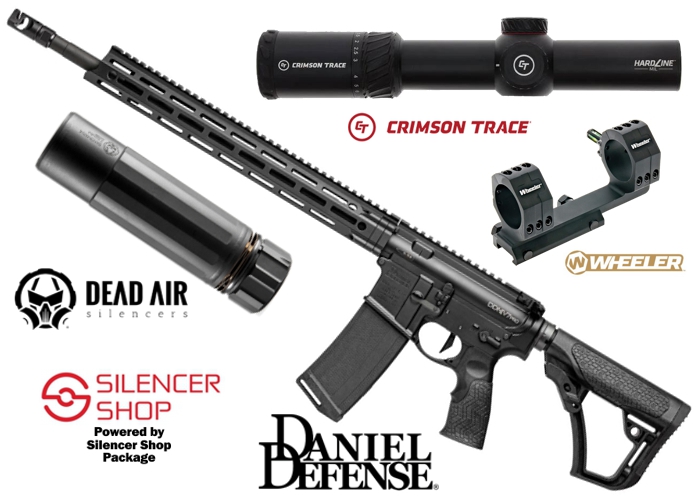 NOTE: Firearm and optional suppressor will not be shipped directly to winner, but rather to Federal Firearms Licensee ("FFL") specified by winner (or selected by Knife Rights or Hill Country Class 3 LLC d.b.a. Silencer Shop (Silencer Shop), in Knife Rights' and Silencer Shop's sole discretion). Winner can only take possession of firearm and suppressor from the FFL(s). Winner must comply with all applicable legal requirements prior to taking possession of firearm or suppressor. Winner is responsible for shipping charge ($40 Pistol/$70 Rifle Caliber) and any fees charged by receiving FFL. Click for complete rules.

The Daniel Defense DDM4®V7 Pro ($2,205) The DDM4 V7 PRO AR15 style firearm is for competitors looking to dominate podiums in today's popular multi-gun matches. Built around our 18 inch Cold Hammer Forged barrel, this platform delivers the speed, controllability, and precision required to engage the most difficult multi-gun stages.
The V7 PRO comes standard with the MFR 15.0 M-LOK rail, which offers incredible weight savings as well as superior cooling, ergonomics, and modularity while maintaining the strength and durability expected from Daniel Defense. An uninterrupted Picatinny rail on top and M-LOK attachment points ensure plenty of real estate for optics and accessories and allow for the maximum sight radius for accurate shooting with rail mounted iron sights. Its muzzle device, the Muzzle Climb Mitigator, redirects propellant gasses through calibrated ports, countering both recoil and muzzle climb. A Geissele Automatics Super Dynamic 3 Gun Trigger delivers rapid hits on target with its light, short pull and quick reset. Combined with the softened recoil impulse of a rifle-length gas system, this allows for shorter split times, more precise follow-up shots, and reduced fatigue. The independently ambi GRIP-N-RIP Charging Handle accommodates left- and right-handed shooters. This rifle also comes with the ergonomic Daniel Defense Buttstock and Pistol Grip.

Specifications:
Mounting System: M-LOK
Caliber: 5.56mm NATO
Muzzle Thread: 1 ⁄ 2 × 28 TPI (Threads Per Inch)
Gas System: Rifle
Barrel Length: 18"
Barrel Profile: S2W® [Strength-to-Weight]
Product Weight: 7.40 lbs
Length: 34 3/4" – 37 7/8"
Magazine: DD Magazine
Case: Daniel Defense Full-Latch Impact Plastic Case
Made in the USA
LOWER RECEIVER: Mil-Spec with Enhanced Flared Magazine Well and Rear Receiver QD Swivel Attachment Point. CNC Machined of 7075-T6 Aluminum, Type III Hard Coat Anodized
UPPER RECEIVER: Mil-Spec with Indexing Marks and M4 Feed Ramps. CNC Machined of 7075-T6 Aluminum, Type III Hard Coat Anodized
TRIGGER: Geissele Automatics Super Dynamic 3-Gun Trigger
BARREL: Chrome Moly Vanadium Steel, Cold Hammer Forged, 1:7 Twist, 18" S2W Profile, Chrome Lined, Mil-Spec Heavy Phosphate Coated, and HP/MPI Tested
GAS SYSTEM: Pinned Low Profile Gas Block CNC Machined of 4140 Hardened Steel and Mil-Spec Heavy Phosphate Coating, Rifle Length, Direct Impingement
MUZZLE DEVICE: Daniel Defense Muzzle Climb Mitigator, Gen II, 17-4 PH Stainless Steel, Salt Bath Nitride Finished
BOLT CARRIER GROUP: M16 Profile, Mil-Spec MP Tested, Chrome Lined, Properly Staked Gas Key
BUFFER: H Buffer
SIGHTS: Sold Separately
HANDGUARD: Daniel Defense MFR 15.0, CNC Machined of 6061-T6 Aluminum, Type III Hard Coat Anodized
CHARGING HANDLE: GRIP-N-RIP Charging Handle, Body CNC Machined of 7075-T6 Aluminum, Handles & Latch CNC Machined of 6061-T6 Aluminum, Heavy Duty Stainless Steel Roll Pins, Type III Hard Coat Anodized
RECEIVER EXTENSION: 6-Position Mil-Spec 7075-T6 Aluminum
BUTTSTOCK: Daniel Defense Buttstock, Glass Filled Polymer with Soft Touch Overmolding
PISTOL GRIP: Daniel Defense Pistol Grip, Glass Filled Polymer with Soft Touch Overmolding
Made in the USA!
Dead Air Silencers Sandman K Suppressor ($899) For those demanding absolute performance and durability, the Sandman Series delivers. Made and constructed from the toughest silencer materials, these are built to stand the test of time for serious users – and do so for military and law enforcement around the world.
The Sandman K was developed for very specific uses. Adding a mere 2.9″ to the end of your muzzle it is your compact companion.
The QD system is design perfection. One-hand installation or removal in just seconds. No wobble, no seizing, no affected performance; just easy on, easy off, with minimal point of impact shift and no loss of precision.
The Cobalt 6 baffles are welded into a solid core for added strength and durability. The front cap is detachable and features an integrated flash hider. This affords better performance, particularly in low light conditions. Pair your Sandman K with an E-brake for flatter shooting, or our Flash Hider front cap for even better flash signature reduction.
Specifications
Caliber Rating: Up to .300 RUM
Energy Rating: 4200 ft lbs
Bore Diameter: .30 caliber
Length: 5.4 inches
Diameter: 1.5 inches
Weight: 12.8 ounces
Materials: Cobalt 6 Baffles and 17-4 PH Stainless Steel Welded Core, Stainless Steel Tube
Finish: Black or FDE Cerakote® body, Nitride attachments
Usage: Professional-grade heavy-duty use
Barrel Restrictions: None
Full Auto Rated: Yes
Patent No.: 11441867
Powered By Silencer Shop Package (Retail Value $335): If you choose to accept the suppressor prize, but are new to the suppressor world, DON'T WORRY! Silencer Shop is powering every step of the transaction. All required paperwork and fees will be handled for the recipient utilizing the nationwide Powered By Silencer Shop network of dealers. Silencer Shop is including the following*:
FREE Single Shot Gun Trust
FREE Tax Stamp Payment
FREE Transfer to the Powered By Silencer Shop Dealer of Your Choice
* Additional rules apply for suppressors. Click for complete rules.
Crimson Trace Hardline Pro 1-10x28 TR1-MIL Tactical Riflescope ($479.99) The Crimson Trace Hardline Low Power Variable Optics are deliberately built for everyone from tactical professionals to backyard plinkers The Crimson Trace Low Power Variable Optic line of scopes is right for you. The line features multiple optics with several magnification and measurement options. All reticles are calibrated to be precise yet robust enough for the use of multiple calibers amongst multiple different platforms. All LPVO's feature a 34mm tube crafted from aerospace grade anodized aluminum that are extremely lightweight and durable. Scopes are shockproof according to MIL-STD-810G test protocol and are waterproof according to IPX7 protocol allowing optics to be submerged in 1 meter of water for 30 minutes. All scopes are fully multi-coated and have exceptional light transmission and glass quality. Nitrogen purging prevents scopes from fogging in all environments. Glass etched reticles and quality glass allows for excellent field of view.

Specs:
Magnification 1-10x
Focal Plane 2nd
Tube Diameter 34mm
Eye Relief (in) 3.5"
Construction Aerospace Aluminum
Water Resistance IPX7
Product Weight (oz) 18oz
Reticle Illuminated CT TR1-MIL Reticle
Objective Lens Diameter 28
Exit Pupil (mm) 8~2.4
FOV feet @100yd 12~118.5
Click Value 1/10 mil
E/W Adjustment Range 32 MIL
Paralax Setting Yards 100.00
Lens Coating Fully Multicoated with CT MOC
Illuminate Reticle Yes
Light Transmittance (%) 88
Length (in) 10.85
Wheeler 1 Piece Cantilever Scope Mount ($84.99) Designed specifically for use with the AR-15 platform, this 1-Piece scope mount allows the optic to be mounted farther forward on the receiver to provide correct eye relief. The 6-screw design provides increased clamping force to keep the optic in place during recoil and the integrated articulating anti-cant mechanism helps keep the rifle level for your long distance shots. Centerline height from top of rail: 1.400 in.