Donate to Win
Work Sharp Ken Onion Edition Knife & Tool Sharpener PLUS Benchstone Knife Sharpener PLUS Guided Field Sharpener
Total Retail Value:
$229.85
Donated By:
Darex, Inc.
**** Chosen by Winner:
Anthony N.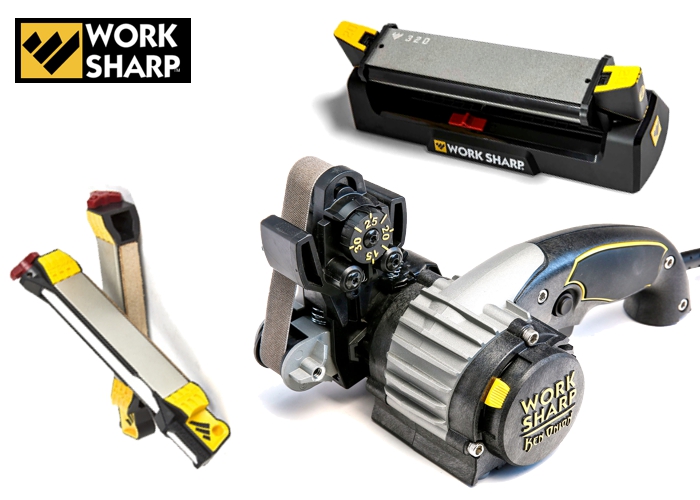 Work Sharp has partnered with legendary hall of fame knife maker Ken Onion to develop a new knife and tool sharpening platform with expanded features! The combination of Work Sharp engineering and Ken Onion's industrial design has created a fast, easy and stylish way to sharpen all your knives and tools with precision and repeatability.
The Work Sharp Knife & Tool Sharpener Ken Onion Edition ($149.95) is designed to sharpen every knife you own. Using a fully adjustable precision sharpening guide, variable speed motor and wide, flexible abrasive belts, it sharpens pocket & hunting knives, serrated knives, kitchen knives and any other shape or type of blade you own. Professional blade makers like Ken Onion use flexible belts to put a razor sharp edge on their blades, now you can have the same technology in your home or shop. Work Sharp Engineered and Ken Onion Designed to deliver the pinnacle of knife sharpening.
The ¾" x 12″ premium, flexible engineered abrasive belts* sharpen virtually any shape or type of knife blade and uses a precision sharpening guide to ensure that you get a consistent angle every time. The sharpening guide is fully adjustable from 15° to 30° so you can sharpen any knife to the angle you desire that best meet your needs. The variable speed control (1,200 SFM to 2,800 SFM) provides you with the optimal belt speed for the task at hand.
*The 6000 grit belt measures ½" x 12″ for better contact with serrations, gut-hooks and other hard to reach edges.
What's in the Box?
Ken Onion Edition Knife & Tool Sharpener

P120 Extra-Coarse Belts (120 grit)

X65 Coarse Abrasive Belts (220 grit)

X22 Medium Abrasive Belts (1000 grit)

X4 Fine Abrasive Belts (3000 grit)

6000 Extra-Fine Abrasive Belts

Quick Start Guide

User's Guide
The Work Sharp Benchtop Bench Stone ($44.95) is an Angle Guided, 3-sided abrasive sharpening system. Medium (400) Grit Diamond and Fine (800) Grit Diamond Plates quickly restore a sharp edge, while the Fine Grit Ceramic Stone creates an incredibly keen edge on any knife. Abrasives are user replaceable. The innovative Pivot Response System allows the abrasive to follow the curve of the blade – making manual sharpening faster, easier and more precise than ever. Sharpening Guides are interchangeable from 20° or 25°and optional to use, additional 15° and 17° Sharpening Guides Sold Separately. Sharpens pocket and outdoor knives of all types and can also be used on kitchen knives. Pivot Response feature can be locked out to provide a rigid sharpening surface for a wide range of knife & tool sharpening applications. Anti-skid feet ensure a safe and stable process. No water or oil is required, making sharpening faster with less set up and clean up. Abrasives are user replaceable to provide serviceability over the life of the sharpener. Professional level benchtop knife sharpening made easy. Angle Guides and Pivot Response sharpening base provide precision, consistency and a superior sharpening experience than other sharpening stone systems.
The Work Sharp Guided Field Sharpener ($34.95) is a complete sharpening solution for field, home or shop use. It is the first angle guided, 5 stage sharpening solution designed for sportsmen who need a complete, robust and compact field sharpening solution.