Donate to Win
KA-BAR Becker BK7 Combat Utility autographed by Sheriff David A. Clarke, Jr. (Ret.) PLUS another (unsigned) KA-BAR Becker BK7 Combat Utility to use! One for SHOW, One for GO!
Total Retail Value:
$280.00
Autograph PRICELESS!
Donated By:
KA-BAR
**** Chosen by Winner:
Jim C.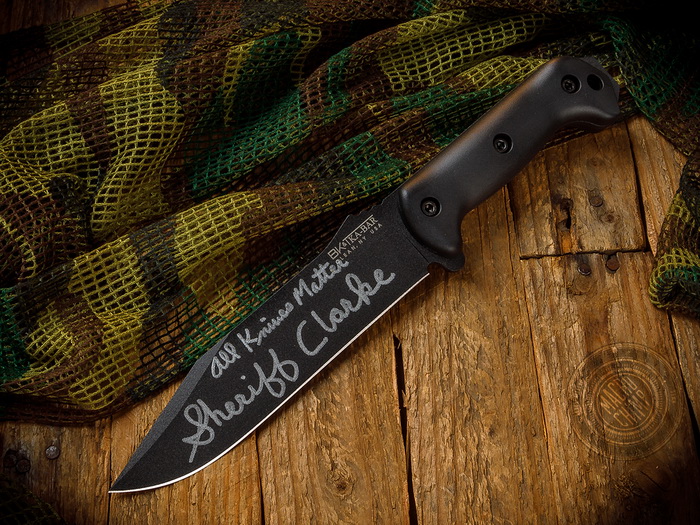 "It isn't about the size of the knife or the type of knife, it is about freedom. I support Knife Rights!"


Sheriff David Clarke

Becker Knife & Tool knives has been at the forefront of hard use survival knives and tools since 1980. Chief designer and founder Ethan Becker, an avid outdoorsman since his youth, spent 25 years searching for the ideal "big knife" design. The ultimate BK&T Becker BK7 Combat Utility ($135,70) all-purpose utility knife was designed specifically for soldiers and adventurers requiring a sturdy but lightweight combat knife that can stand up to hard use. Made in the USA. Comes with optional Green Micarta Handles for "GO" knife (production molded Zytel handles included).
Blade Style: Clip Point, flat grind
Overall Length: 12.75"
Blade length: 7"
Blade Thickness: 0.188"
Steel: 1095 Cro-Van high carbon tool steel
Hardness: 56-58 HRc
Finish: Textured Powder Coat
Handle: Zytel
Sheath: Nylon with insert