Donate to Win
Darrel Ralph Mid-Tech DDR Dominator 3.5 Bowie - Gold Anodized "Circuit"
Retail Value:
$675.00
Donated By:
Darel Ralph
**** Chosen by Winner:
Noel M.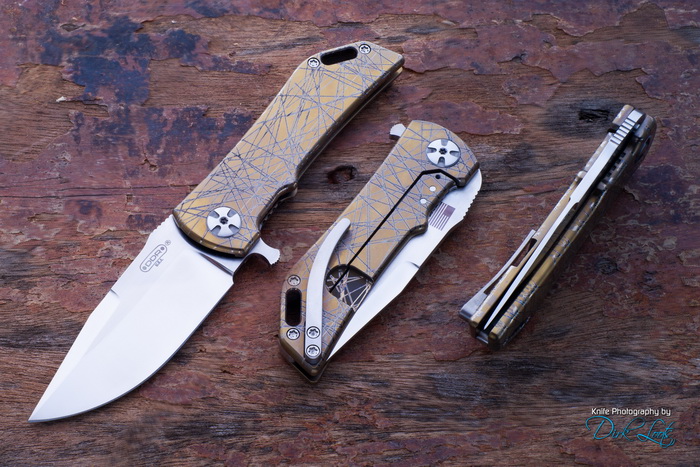 This DDR Dominator features 0.180 inch thick 6Al4V titanium handles with Gold Anodizing and a "Circuit" design laser engraveded into the face of both sides.. Includes a titanium pocket clip with a satin finish. The CPM-S35VN steel blade has a satin finish and a plain cutting edge.
The Dominator flipper knife was originally designed by Darrel Ralph for Camillus as a limited production run. DDR is excited to introduce a new custom line of Dominator flippers with titanium handles and CPM-S35VN steel blades. These hefty flippers utilize Darrel's Maxx Glide Pivot Bearing System with excellent results. Includes a DDR pouch.

Blade Length: 3 1/2"
Overall Length: 7 7/8"
Closed Length: 4 3/8"
Blade Steel: CPM-S35VN
Blade Finish: Satin
Blade Shape: Bowie
Handle Material: Titanium
Handle Finish: Purple Anodized with Random Circuit Pattern
Locking Mechanism: Framelock
Open Mechanism: Flipper
Pivot: Maxx Glide Caged Pivot Bearing System.