Donate to Win
Diamondback Firearms DB15DB Diamond Series Rifle (5.56 mm)
Retail Value:
$1,441.00
Donated By:
Diamondback Firearms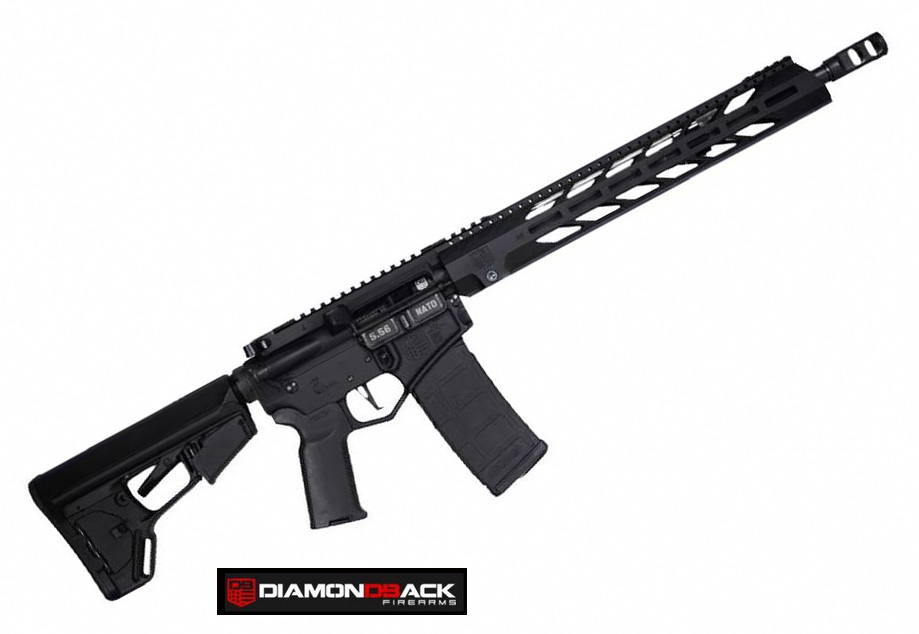 The DB15 Diamond Series is Diamondback Firearms' premium line of ARs including upgraded triggers, furniture, a nice hard case, and sights included in the box. Diamondback uses its own forged 7075 T-6 aluminum lower, handguard, and muzzle brake.
Additional premium features include a mid-length gas system, pinned gas block, shot-peened, and magnetic particle inspected bolt carrier group, and a 4150CrMov, black nitride barrel with a 1:8 twist rate. 
DB15DB Specifications:
UPC: 810035751033
Caliber: 5.56 Nato
Barrel: Diamondback Barrels 5.56, Mid-Length, 16 in., Medium, 4150 CrMov, Black Nitride
Twist: 1:8 RH
Gas System: Mid-Length
BCG: Shot-Peened, Magnetic Particle Inspected Mil-Spec 8620 Carrier
Upper: A3 Flattop Forged 7075 T-6 Aluminum
Lower: Forged 7075 T-6 Aluminum [Diamondback Diamond Lower] w/ Enhanced Skeletonized Trigger Guard
Handguard: Diamondback 15 in. M-LOK Anti-Rotation (S-Rail)
Grip: MOE K2+ Grip
Stock/Brace: Magpul ACS-L Stock
Magazine: Gen 2 PMAG 30 Rd
Sights: None
Muzzle Device: Diamondback CNC Muzzle Brake [1/2 x 28]
Trigger: CMC 3.5 lb Single Stage Drop-In
Weight: 6.95 lb.
Length (Collapsed): 34 in.
Length (Extended): 37-1/4 in.