Donate to Win
DRD Tactical Paratus P762 Gen-2 Black 6.5 Creedmoor Quick Takedown Rifle PLUS Lucid L5 4-16x44 Rifle Scope PLUS Crimson Trace LNQ-100G LiNQ™ Wireless Green Laser Sight & Tactical Light for AR-Type Rifles PLUS Surefire SOCOM300 SPS Suppressor PLUS Powered By Silencer Shop Package  
Total Retail Value:
$5,880.00
Donated By:
DRD Tactical, SureFire, Lucid Optics, Crimson Trace & Silencer Shop
**** Chosen by Winner:
Evan R.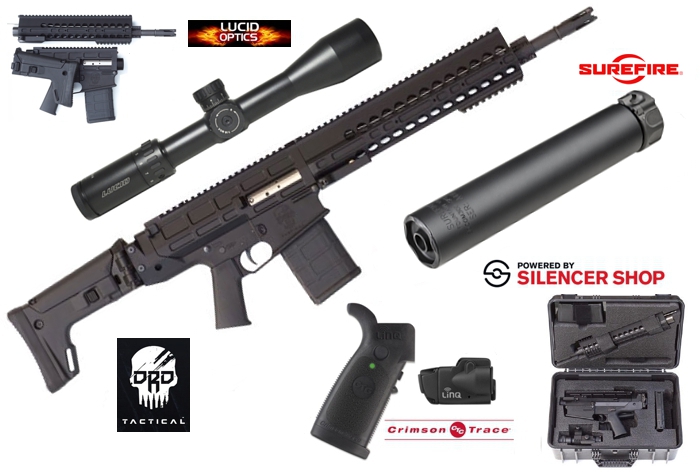 NOTE: Firearm and optional suppressor will not be shipped directly to winner, but rather to Federal Firearms Licensee ("FFL") specified by winner (or selected by Knife Rights or Hill Country Class 3 LLC d.b.a. Silencer Shop (Silencer Shop), in Knife Rights' and Silencer Shop's sole discretion). Winner can only take possession of firearm and suppressor from the FFL(s). Winner must comply with all applicable legal requirements prior to taking possession of firearm or suppressor. Winner is responsible for shipping charge ($40 Pistol/$70 Rifle Caliber) and any fees charged by receiving FFL. Click for complete rules.
DRD Tactical Paratus® P762 Gen-2 Rifle ($3,300)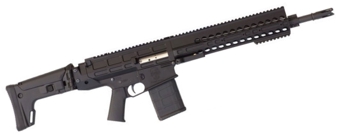 COVERT ARM OF THE FREE WORLD™ This DRD Tactical Paratus® P762 Gen-2 Rifle is an outstanding gas-operated semi-automatic rifle is chambered in 6.5 Creedmoor NATO. The P762 rifle quickly breaks down into large component assemblies, without any tools. It was originally developed for the Clandestine Break Down Sniper Rifle (CSR) project listed by Joint and Special Operations Program. It is the most compact auto loading rifle in the world, with features like folding Magpul adjustable stock. The patented internal recoil system eliminates standard buffer tube/spring which allows the rifle to be fired with the stock folded.
It can be stowed in a small briefcase or backpack for travel and it can then be rapidly assembled in less than a minute when the destination is reached. The proven direct gas impingement system cycles the action reliably. The P762 is a patented design.
This DRD Tactical P762 includes a Custom Cut Foam Hard Pelican Case.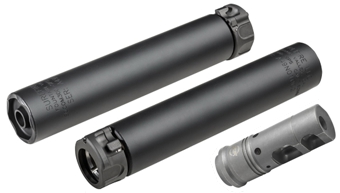 The SureFire SOCOM300 SPS ($1,079) suppressors are test fired and must shoot a group no more than 1 MOA than that of the baseline platform unsuppressed group to pass. Highly specialized V-shaped baffles provide truly unprecedented levels of sound attenuation. Compatible with other calibers 5.56 through .300 WM. Solid high-temperature alloy blast baffle increase durability. Patented no-tools Fast-Attach® design attaches and removes in seconds. Full-Auto rated. Minimal and consistent point-of-impact shift. Lightweight for minimal impact on weapon-handling characteristics. Constructed of advanced high-temperature alloys and stainless steel for long service life. Includes a SureFire SFMB-762-5/8-24 Muzzle Brake / Suppressor Adapter ($149) serves as a rock-solid mounting adapter for SureFire SOCOM Series Fast-Attach® suppressors.

NOTE: Optional suppressor can be excluded if the winner is ineligible for any reason or prefers not to become subject to the requirements of the National Firearms Act (NFA). Current wait times for NFA transfers conducted by the BATFE are nine to twelve months and could be longer. KR is not responsible for tracking such wait times. Winner is responsible for compliance with the NFA and all state and local laws governing the possession of NFA items in the winner's jurisdiction.*
  

Powered By Silencer Shop Package (Retail Value $335): If you choose to accept the suppressor prize, but are new to the suppressor world, DON'T WORRY! Silencer Shop is powering every step of the transaction. All required paperwork and fees will be handled for the recipient utilizing the nationwide Powered By Silencer Shop network of dealers. Silencer Shop is including the following*:

FREE NFA Gun Trust
FREE Tax Stamp Payment
FREE Transfer to the Powered By Silencer Shop Dealer of Your Choice
* Additional rules apply for suppressors. Click for complete rules.
Lucid Optics L5 4x-16x44 Rifle Scope ($429) The L5 series of rifle scopes was intentionally over built and designed to offer features and performance that is not found anywhere else at this price point. It is a purpose built optic in a stout 30mm one piece aluminum frame with all of the durability and quality that LUCID OPTICS has become known for. It also has a level of operator benefits and creature comforts that simply are not found anywhere else. It offers precise and repeatable 1/8MOA windage and elevation adjustments on lockable and re-zeroable turret tactical style turrets. The side parallax adjustment combined with the ocular diopter adjustment provides a crisp target image over the entire magnification range. The L5 Reticle is a precise MOA measuring devise with 2MOA increments below the rifle's zero and meaningful windage values built in this rifle scope. This optical package simply makes longer shots possible. Includes LUCID Optics, QD, 30mm, High Mount ($159)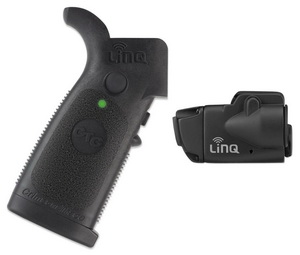 The Crimson Trace LNQ-100G LiNQ ($429) combines a Green Laser Sight and 300 Lumen LED White Light with Instinctive Activation™ for AR-Type Modern Sporting Rifles (AR-15, AR-10, M4, M16, HK416). Utilizing a secure, individual wireless connection, LiNQ offers complete wireless control of the laser and light module. The replacement grip is ergonomically designed for quick activation and mode changes, eliminating the need to reach for the rifle's forend to operate. The green laser sight, coupled with a powerful tactical light, offers high visibility in all lighting conditions, making LiNQ the ultimate illumination and targeting solution.
4 Modes of Operation: Laser + Light, Laser Only, Light Only or Laser + Light Strobe
Paratus® P762 Gen-2 Specifications
CALIBER: 7.62 x 51mm NATO or 6.5 Creedmoor
WEIGHT: 9.2 lbs
BARREL: 16? Barrel, 1:10 twist
MAGAZINE CAPACITY: 20 Rounds (Comes with 2 Magpul P-mags)
STOCK: Magpul, Adjustable Folding Stock
SAFETY SELECTOR: AR15 type
OPTIC MOUNTING RAIL: MIL-STD 1913
OPERATION: Direct Gas operated Semi-Automatic
SureFire SOCOM300 SPS Suppressor Specifications
All SOCOM rifle and carbine suppressors are test fired and must shoot a group no more than 1 MOA than that of the baseline platform unsuppressed group to pass

Highly specialized V-shaped baffles provide truly unprecedented levels of sound attenuation

Optimized for .300 BLK/Whisper subsonic and supersonic ammo, including and also compatible with other calibers 5.56 through .300 WM

Solid high-temperature alloy blast baffle increase durability

Patented no-tools Fast-Attach® design attaches and removes in seconds

Best performing suppressors for .300BLK (Blackout) system both with Sub and Supersonic ammunition.

Quietest suppressor in compared to that of other SOCOM suppressors with minimal increase in back pressure.

Capable of being fired on 5.56 through .300WM bolt actions systems.

Full-Auto rated on .300BLK Sub- and Supersonic ammunition.

Minimal and consistent point-of-impact shift

Lightweight for minimal impact on weapon-handling characteristics

Constructed of advanced high-temperature alloys and stainless steel for long service life
Crimson Trace LNQ-100G LiNQ Specifications
Color: Black
Activation Location: Front Activation
Attachment: Grip Replacement
Free Batteries For Life: Yes
Finish: Polymer Grip with Rubber Overmold Activation Pad
Installation: User Installed
Laser Battery Life: Over Two Hours
Activation Mode: Pressure Activated
Sighting: Factory Sighted at 50'
User Adjustable: Windage and Elevation
Warranty: Three Year Full Warranty
Dot Size: Approx. 0.50" at 50'
Lucid Optics L5 4x-16x44 Rifle Scope Specs
Magnification
Objective Lens
Ocular Lens Diameter
Length
Mounting Length
Weight
Tube Diameter
Construction Material
Color & Finish
4x-16x
44mm
34mm
13.25"
5.5"
18oz
30mm
6064 1 Pc. Aluminum
MATTE BLACK

Waterproof
Fogproof
Shockproof
Lens Coating
Light Transmission
Ocular Focus 
Parallax Adjustment
Parallax Adjustment Range
Eye Relief
Exit Pupil 
Field of View
Diopter Compensation

YES (submersible)
YES (Nitrogen Purged)
YES (.338 Lapua)
FBMC Multi Coated
92%
YES
YES (side)
15yrds -- ∞
4.25" to 3.25"
8.3mm to 2mm
16.5ft to 4.3ft
(-2 to +1.5)
Reticle Type
Turret Click Value
Windage Adj, Range
Elevation Adj. Range
Lockable Turrets
Re-Zeroable Turrets
Warranty
L5 Etched Glass
1/8MOA
50MOA
50MOA
YES
YES
Limited Lifetime