Retail Value:
$239.00
Donated By:
DROP
**** Chosen by Winner:
Jon R.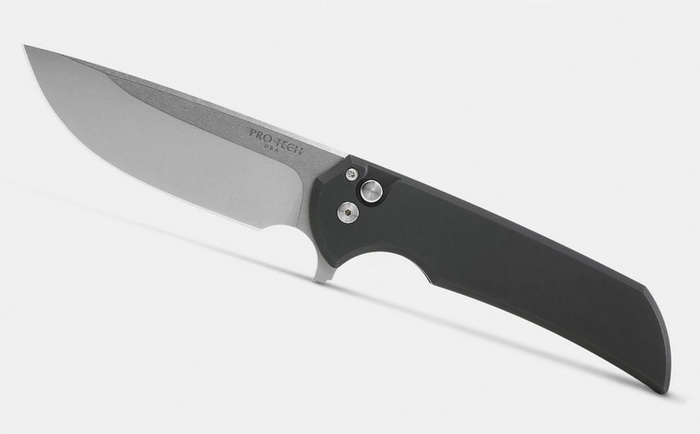 This Mordax has a classic Plain Black handle with a Stonewashed blade.
The original Mordax was one of Ferrum Forge's most popular designs. Usually the custom knife shop only makes limited batches of each knife—but thanks to our strong partnership and the Massdrop community's demonstrated interest in their work, we're bringing the Mordax back, this time with a few key changes to make it even better. The original Mordax was made from titanium; here, we chose super lightweight aluminum scales to make it even more pocket friendly. For the blade, we stuck with what worked: premium CPM-20CV stainless steel with exceptional edge retention and corrosion resistance. Perhaps the biggest change? The button lock. Now, the flipper can be opened and closed with a press on the button and a simple flick of the wrist. And because we know knife nuts come in all types, we've got the Mordax in 10 different styles.
Measuring 8.25 inches long, the Mordax is our largest project yet with the San Diego–based Williamson brothers of Ferrum Forge. Despite its size, the knife weighs less than 4 ounces thanks to the aluminum scales. That lean construction makes it easy to control in tight spaces—not to mention there's a finger choil for choking up if the job requires it. The 3.6-inch drop-point blade is as versatile as they come, whether you need to slice through cardboard, cut twine, or prepare food. Fitted with a deep-carry stainless steel pocket clip, the knife keeps a low profile.
CPM-20CV can withstand wear under the most demanding circumstances. Developed by Crucible Industries (one of the leading manufacturers of specialty steels for the cutlery industry), it's made through a process known as Crucible Powdered Metallurgy, which results in near perfect consistency in the distribution of carbides. Compared to conventional melting practices, the CPM process produces a steel characterized by superior dimensional stability, grindability, and toughness. Nearly identical in chemical makeup to M390 and CTS-204P stainless steel, CPM-20CV is known for its impressive ability to hold an edge and high resistance to corrosion.
Manufactured by Pro-Tech. Based in Artesia, California, Pro-Tech Knives is a family-run operation that's been in business since 1999. Boasting a wide range of tactical, collector, and military-proven knives, the company stands behind a '100 percent made in the USA' policy. Using state-of-the-art equipment—including 3-axis CNC machines and EDM wire-cutting machines—Pro-Tech is able to achieve a fit and finish that rivals handmade custom knives. Need proof? They've taken home Blade Show's award for "Best Investor/Collector Knife" the last six years running.
SPECS
Designed by Ferrum Forge Knife Works

Produced by Massdrop

Manufactured by Pro-Tech Knives (Pro-Tech limited lifetime warranty via Massdrop)


Country of origin: USA

Blade: CPM-20CV stainless steel

Blade type: Drop-point

Grind: Flat saber

Finish/coating: Stonewashed or DLC

Handle: 6061-T6 aluminum

Handle finish: Anodized

Opening mechanism: Flipper tab or button release

Lock mechanism: Button lock

Pivot: Caged bearings, hardened steel washers

Steel pocket clip for right-handed, tip-up carry

Hardware: Torx (including pivot, replacing the 1.5 mm hex pictured)

Blade length: 3.6 in (9.1 cm)

Cutting edge: 3.4 in (8.6 cm)

Blade thickness (at spine): 0.12 in (3.2 mm)

Blade thickness (1 mm behind apex): 0.03 in (0.7 mm)

Handle length: 4.6 in (11.7 cm)

Handle width without clip: 0.5 in (1.22 cm)

Handle width with clip: 0.65 in (1.65 cm)

Overall length: 8.25 in (21 cm)

Overall weight (without milling): 3.85 oz (109 g)

Overall weight (with milling): 3.6 oz (102 g)