Donate to Win
Custom Ethan Lee "Deep Silent Steel - The Maine Knife"
Retail Value:
$950.00
Donated By:
ELEE Knives
**** Chosen by Winner:
David R.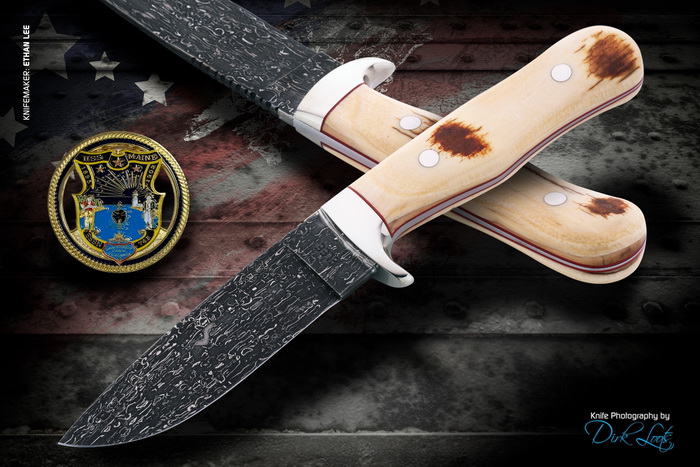 USS Maine Challenge Coin Not Included.

NOTE: It is not legal for residents of California, Hawaii, Illinois, New York and New Jersey to receive this prize due to these states' ban on ivory trade that includes 10,000-year-old fossil ivory. Knife Rights is not responsible for determining legality. Winner is responsible for compliance with all state and local laws governing the receipt and possession of fossil ivory items in the winner's jurisdiction. Click for complete rules.

Forged in Fire Champion Ethan Lee served as a Submarine Nuclear Machinist's Mate on the "Boomer" (ballistic missile submarine) the USS Maine SSBN 741. When the ship was in for refuel and overhaul, multiple hull cuts were made to the ship. The Captain requested the shipyard workers to save the shavings and he gave every crew member some in a vile suspended in aft external hydraulic fluid. The shavings left over after that, he gave to Lee. These shavings were a part of the USS Maine and had seen Test Depth many times in undisclosed locations. The first knife Lee made from these shavings was presented to his Captain.
Lee used these shavings as well on the pommel of his Barbarian Sword on Forged in Fire Season 6 Episode 6, from which he emerged as Champion.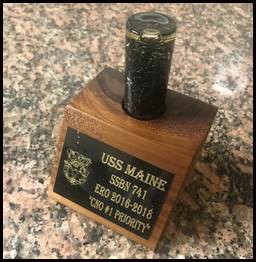 Deep Silent Steel - The Maine Knife is a full tang drop point hunter with a 5" blade forged from these shavings from the USS Maine and 1095 powdered steel. The handle is Mammoth Ivory. The bolster/guard is forged from a seawater feed piping flange, also from the USS Maine.
NOTE: USS Maine Challenge Coin Not Included.