Donate to Win
Custom Brian Fellhoelter Matched Set Celtic TiBolt and Ti Screw-It Driver
Total Retail Value:
$380.00
Donated By:
Brian Fellhoelter
**** Chosen by Winner:
Sean W.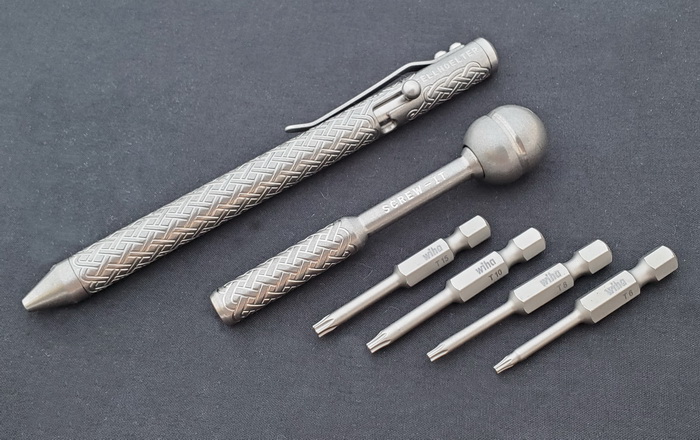 This matched set of Celtic engraved TiBolt Full-Sized Pen and Ti Screw-It Interchangeable Bit Driver were delivered at BLADE Show 2022.
The  TiBolt ($210) is addictive. You will find yourself running the bolt action mechanism through its paces repeatedly. It's so smooth and intuitive to use you can't help but play with it. Annoy your friends and family as you obsessively click and thwack the bolt while thinking, reading, watching TV, etc... The TiBolt is a high quality, American made pen that feels great in your hand. You will write with it, and you will play with it, and we are sure you will enjoy it.
The TiBolt is a pure 100% titanium construction. If it can be made from titanium, Brian will take a shot at doing it and this project has been an overwhelming success. Everything from the body, tip, bolt, ball, shaft, torx screws, cap, pocket clip and even the hidden parts, are all made from titanium. The only exceptions are the ink cartridge, spring, and O-ring.
The pen measures 5.5" overall and utilizes Schmidt, Parker or Fisher Space Pen refills. To swap out the ink, simply unscrew the tip, remove the old one and replace with a new one. Screw the tip back on and you're back in business. This is one of the coolest tactical pens on the market and definitely one you will be proud to own and look forward to using each and every day.
Here it is, the Ti Screw-It Interchangeable Bit Driver ($170) I use to assemble all of the products here at the Fellhoelter shop. Steven Kelly and I set out to make a driver that was comfortable, dealt with the flaws I perceive in other custom drivers, is fun, and spins for a long time, if you are one of those twitchy, fidgeting types.
One of my biggest complaints with the crop of custom drivers that I have come across is visibility. They all use the short driver bits, and are generally larger in diameter (Mine are 3/8" in diameter or about 9.5mm). The short bits cause at least 2 problems, for ME, maybe not for you…
1, It blocks the visibility of small screws, and makes them awkward to use.
2, they don't reach in to tight places. A common place that gets me are my low ride pocket clips. Many of the bits do not reach in them. And if they do, they block the whole hole, so you can't see what is going on.
We fixed that by using 2" long power driver bits. They cost more, but I love them, and think you will too. I even provide you with T6, 8, 10, and 15 Torx bits from Wiha, the best in the business. These are the most common sizes used on knives, and the stuff I make. More bits can be bought at any hardware store, and less common bits like the Torx are found at industrial supply houses like McMaster-Carr and MSC.
The ball uses a stainless bearings. You can remove the ball for cleaning, but not the bearing from the ball. You can also blow air or brake cleaner in the hole in the ball, which blows through the bearing, and keeps it spinning at max speed.
The bits are held in place by a magnet, so they are very easy to change from one size to the next.
TiBolt Specifications
Overall Length: 5.5"
Material: Stonewashed Titanium
Refill: Schmidt, Parker or Fisher
Pocket Clip: Titanium
Weight: 1.4 oz.
Screw-It Specifications
Overall Length: 3.75"
Overall Length with Bit: 5.0"
ScrewBall Material: Titanium
ScrewBall Diameter: 0.75"
Spindle: Titanium-Celtic
Weight: 1.1 oz.