Retail Value:
$150.00
Donated By:
Brian Fellhoelter
**** Chosen by Winner:
Brian B.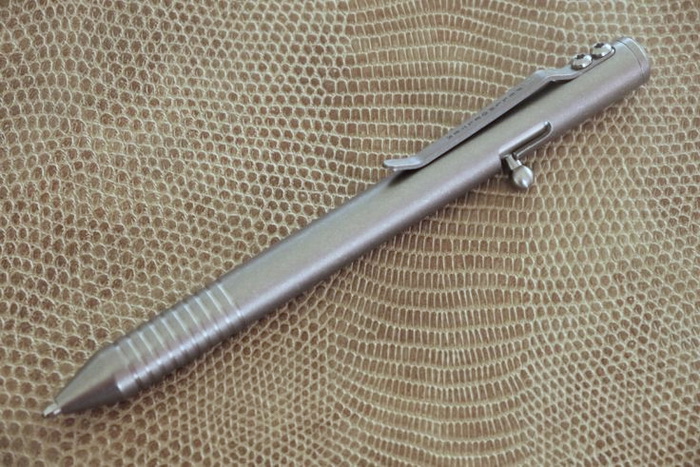 The TiBolt is addictive. You will find yourself running the bolt action mechanism through its paces repeatedly. It's so smooth and intuitive to use you can't help but play with it. Annoy your friends and family as you obsessively click and thwack the bolt while thinking, reading, watching TV, etc... The TiBolt is a high quality, American made pen that feels great in your hand. You will write with it, and you will play with it, and we are sure you will enjoy it.
The TiBolt is a pure 100% titanium construction. If it can be made from titanium, Brian will take a shot at doing it and this project has been an overwhelming success. Everything from the body, tip, bolt, ball, shaft, torx screws, cap, pocket clip and even the hidden parts, are all made from titanium. The only exceptions are the ink cartridge, spring, and O-ring.
The pen measures 5.5" overall and utilizes Schmidt, Parker or Fisher Space Pen refills. To swap out the ink, simply unscrew the tip, remove the old one and replace with a new one. Screw the tip back on and you're back in business. This is one of the coolest tactical pens on the market and definitely one you will be proud to own and look forward to using each and every day.
Specifications
Overall Length: 5.5"
Material: Stonewashed Titanium
Refill: Schmidt, Parker or Fisher
Pocket Clip: Titanium
Weight: 1.4 oz.