Total Retail Value:
$194.93
Donated By:
Fieldcraft Survival
**** Chosen by Winner:
Michael S.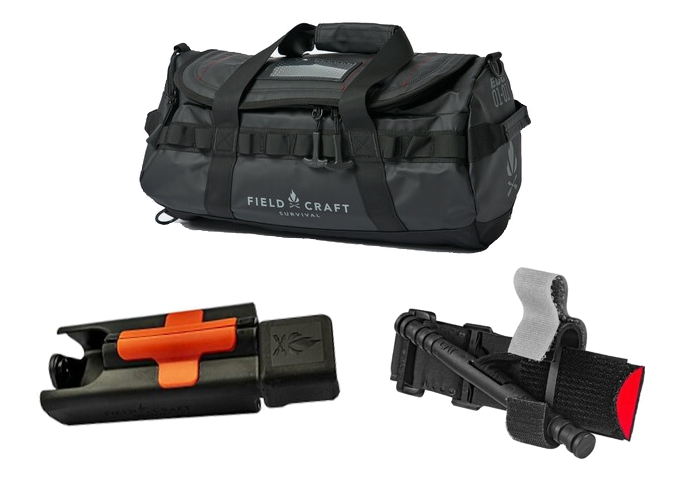 Fieldcraft Survival Mobility EDC 01-01 20 Liter Duffel Bag ($119.99)  You have gear. You need to move your gear around. These duffels are up to the task. Made from heavy-duty PVC Tarpaulin, they can take all of the use and abuse that you're going to put them through. Sitting at 20, 40, and 80 liters, these bags will be sure to get your gear set up and organized so you're ready for everything.
The Mobility bag lineup features interchangeable velcro pouches that you can use to store med, survival, communication gear, or general-purpose pouches. Each bag comes with 2 pouches.
We've added customized zip pulls for ease of use and a D-zip opening with a weather-resistant zipper flap. With all the gear you can load into the bag you need different ways of carrying it. We included side handles that serve as both duffel carry handles and haul handles. But we didn't stop there - we also added a single sling strap for the 20-liter bag in addition to the standard handles. No matter how you need to lift or grab the bag, you'll have the right options.
Specifications:
Custom made from heavy-duty 100D x 100D PVC Tarpaulin
Finished with customized zip-pulls.
The bag has built-in detachable and adjustable shoulder straps (20 liter has a single and 40/80 have 2 straps) and may be carried as a sling bag or backpack
Water-resistant ID Pocket
D-zip opening with a weather-resistant zipper flap
Padded side handles serve as both duffel carry handles and haul handles
Outside Dimensions: 20 Liter: 18"L x 10"W x 8.5"H
Fieldcraft Survival First Responder Outside the Waistband Tourniquet Holder with Interchangeable Belt and Molle Clip ($44.95) Fieldcraft has developed this SOF tourniquet holder to increase accessibility to the tourniquet and reduce failures in the field through functional design to meet utilitarian needs. Fits Combat Application Tourniquet.
Features:
Interchangeable Belt and Molle Clip (Spring Steel Clip)
Windless Clip Protector
Tension Grip Design
Easy Regress
Single point Screw
North American Rescue Combat Application Tourniquet (CAT) Gen 7 (Black) ($29.99) This is the Combat Application Tourniquet Gen 7 in black. The Combat Application Tourniquet (CAT) is used exclusively by The U.S. Army. Proven to be 100% effective in occluding blood flow in both upper & lower extremities by the U.S. Army's Institute of Surgical Research. NEW Single Routing Buckle for faster application, decreased blood loss, effective slack removal, fewer windlass turns, and simplified training with single protocol application standards
Includes reinforced windlass, stabilization plate, windlass clip and writeable windlass security strap
Featuring NAR's signature Red Tip Technology® elliptical tab providing added visual clues during application
Also includes a Fieldcraft Survival Cap and stickers.