Total Retail Value:
$864.91
Donated By:
American Outdoor Brands' Frankford Arsenal
**** Chosen by Winner:
Michael B.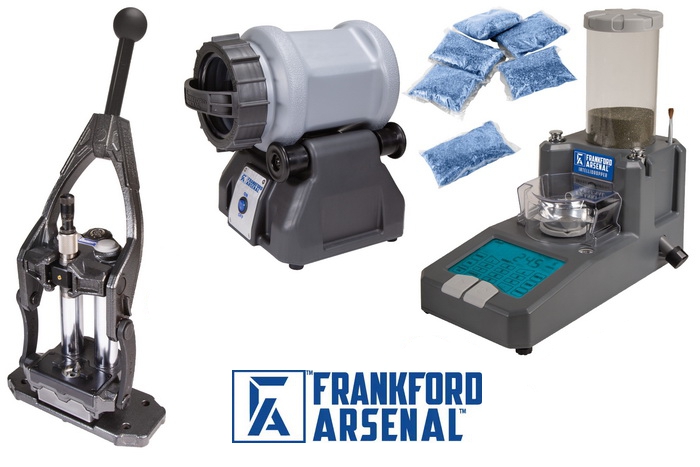 Not to Scale – (NOTE: Intellidropper will not ship to winner until this Fall)


M-PRESS COAXIAL RELOADING PRESS ($344.99) The Frankford Arsenal® Single Stage reloading press was designed for the serious reloader to deliver the most precise ammunition possible. We engineered a reloading press with an easy to adjust universal shell holder system, an easy to empty spent primer tray, and the ability for your press to cam over or not. In combination with the easy to adjust universal shell holder system, it allows you to switch between small to magnum pistol or rifle sized cases with the turn of a dial. Our floating die system allows for optimal bullet to case alignment helping to minimize runout to help produce the most accurate ammunition possible. Frankford Arsenal's proprietary M-Press delivers unmatched accuracy at the bench and in the field.
Intellidropper Electronic Powder Measure ($299.99)  The Frankford Arsenal® Intellidropper is the most advanced, intelligent and precise electronic powder measure on the market today. The Intellidropper features a proprietary powder calibration button for fast and accurate powder measurements. Auto and manual trickle capability maintain up to 250 grains of powder per throw. Holds more than 7,000gr (1lb) of powder and offers +/- 0.1 grain accuracy. The Intellidropper dispenses powder two-times faster than other powder measures on the market. Frankford Arsenal's Intellidropper mobile app makes reloading your ammunition easier than ever. It's designed, so you can spend more time loading and less time searching. This app works alongside the Intellidropper, storing your load recipes and data with the most intelligent and comprehensive technology of its kind. This user-friendly app neatly categorizes, organizes and stores your load recipes for quick accessibility. Its dual screen compatibility syncs with the Intellidropper and features state-of-the-art memory retention. This app also features a cost center-calculator. Just punch in the information and it will give you a detailed price list of how much each round cost to build. As software engineers continue to develop the app, there will be direct updates available for the Intellidropper and mobile app to expand its intellectual capacity and make overall improvements. Frankford Arsenal's proprietary Intellidropper delivers unmatched accuracy at the bench and in the field. (NOTE: Intellidropper will not ship to winner until this Fall)

ROTARY TUMBLER LITE ($164.99)  The Frankford Arsenal® Rotary Case Tumbler Lite is the compact version of the Platinum Series Rotary Tumbler. This tumbler can hold up to 300 pieces of .223 brass. The Rotary Tumbler Lite is especially great for reloading specialty cartridges and lower volume. One of the best features is its maintenance free, direct drive electric motor. The leak proof cap is clear to allow you to check up on the tumbling action while keeping your reloading area clean and dry. Frankford Arsenal®'s proprietary Rotary Tumbler Lite delivers unmatched accuracy at the bench and in the field.
Frankford Arsenal Platinum Series 24 Count InstaClean Brass Cleaning Packs ($29.99) The quick and effective way to clean your brass is finally here with the Frankford Arsenal Brass Cleaning Packs. These packs are conveniently prepackaged and measured for cleaning 500 pieces of brass. You can also take pride in knowing that your cleaning solution is made right here in the U.S.A. This reloading cleaning solution was designed for use with the Frankford Arsenal Rotary Tumbler, but can be used with a variety of wet reloading tumblers.
M-PRESS DIE BLOCKS - 3 PACK WITH STORAGE CASE ($24.99)  This 3 pack die blocks with storage case included is for the Frankford Arsenal Single Stage M-Press.