Total Retail Value:
$854.93
Donated By:
American Outdoor Brands' Frankford Arsenal
**** Chosen by Winner:
Darien M.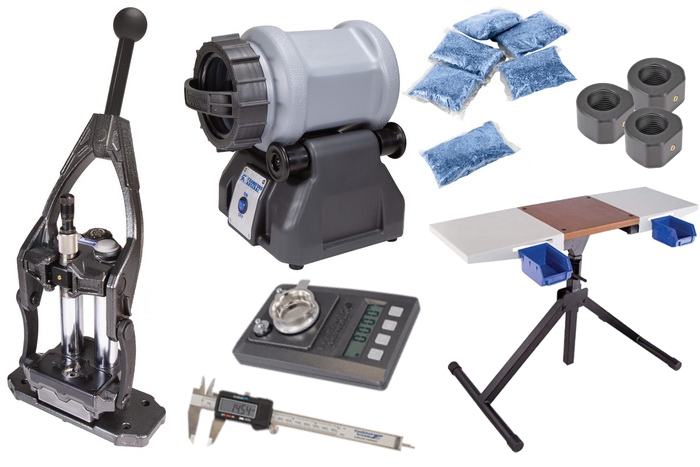 M-PRESS COAXIAL RELOADING PRESS ($299.99) The Frankford Arsenal® Single Stage reloading press was designed for the serious reloader to deliver the most precise ammunition possible. We engineered a reloading press with an easy to adjust universal shell holder system, an easy to empty spent primer tray, and the ability for your press to cam over or not. In combination with the easy to adjust universal shell holder system, it allows you to switch between small to magnum pistol or rifle sized cases with the turn of a dial. Our floating die system allows for optimal bullet to case alignment helping to minimize runout to help produce the most accurate ammunition possible. Frankford Arsenal's proprietary M-Press delivers unmatched accuracy at the bench and in the field.
Platinum Series Precision Scale with Case ($199.99)  The Frankford Arsenal® Platinum Series Precision Scale delivers extreme accuracy for precise measurement of powder, bullets, cases or loaded rounds. Featuring 1500 grain capacity with 1/10 grain accuracy, you will be able to achieve the maximum potential of your hand loads. Simple controls allow for easy changes of units or tare weights. Can be operated on 4 AAA (included) or 110V/220V power supply. The performance and features of this scale make it the best value on the market, making it a welcome addition to any loading bench.

Platinum Series Reloading Stand (199.99) The Frankford Arsenal® Platinum Series Reloading Stand is a must-have for anyone with limited space. The tabletop and frame are foldable to store in compact spaces. The durable wood center section is ideal for mounting a press, powder measure or other fixed position tools while the side shelves easily accommodate any free-standing trimmers, scales or almost any reloading tool.
Electronic Caliper ($34.99) Reloading ammunition requires attention to many critical cartridge dimensions, including case length, neck and base diameters, overall length, primer pocket depth, etc. Verifying these dimensions is quick and convenient with the Frankford Arsenal Calipers. The calipers are accurate to within .001-Inch. The calipers allow you to measure inside and outside diameters, plus depths. You will find them useful for many measuring tasks on and off the reloading bench. Packaged in a convenient and protective case. 
ROTARY TUMBLER LITE ($164.99)  The Frankford Arsenal® Rotary Case Tumbler Lite is the compact version of the Platinum Series Rotary Tumbler. This tumbler can hold up to 300 pieces of .223 brass. The Rotary Tumbler Lite is especially great for reloading specialty cartridges and lower volume. One of the best features is its maintenance free, direct drive electric motor. The leak proof cap is clear to allow you to check up on the tumbling action while keeping your reloading area clean and dry. Frankford Arsenal®'s proprietary Rotary Tumbler Lite delivers unmatched accuracy at the bench and in the field.
Frankford Arsenal Platinum Series 24 Count InstaClean Brass Cleaning Packs ($29.99) The quick and effective way to clean your brass is finally here with the Frankford Arsenal Brass Cleaning Packs. These packs are conveniently prepackaged and measured for cleaning 500 pieces of brass. You can also take pride in knowing that your cleaning solution is made right here in the U.S.A. This reloading cleaning solution was designed for use with the Frankford Arsenal Rotary Tumbler, but can be used with a variety of wet reloading tumblers.

M-PRESS DIE BLOCKS - 3 PACK WITH STORAGE CASE ($24.99)  This 3 pack die blocks with storage case included is for the Frankford Arsenal Single Stage M-Press.