Donate to Win
Mid-Tech Aaron Frederick / Trash Panda Kitt Slipjoint Folder
Retail Value:
$275.00
Donated By:
Aaron Frederick
**** Chosen by Winner:
David A.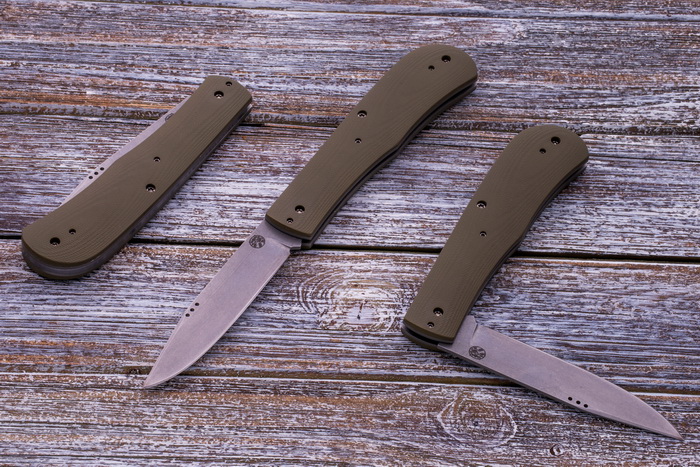 Trash Panda Knives is a collaborative project including custom knife makers Aaron Frederick, John W Smith and CJ Smith that offers extreme hard use knives that are built to use and take on whatever you can throw at them. The "Kit" is a robust slip joint folder in the style of the classic pocket knife made with modern, high performance materials. This Kit is built with titanium liners, a stonewashed AEB-L blade and uni-directional carbon fiber scales. Built to take the abuse, if you break the blade on your Kit just send it back to Trash Panda Knives with a good story on how you killed it and a new blade will be installed for free.
Blade: Made from premium AEB-L stainless steel the clip point blade has a rugged stone wash finish and a fine, hollow ground edge. The slip joint operation has a solid half stop with good walk and talk. Three milled holes in the blade are substituted for a nail nick for opening, adding traction while keeping a clean look.
Handle: Offering a blend of modern and traditional design the handle is comprised of a steel back spring, blasted titanium liners and uni-directional carbon fiber handle scales all held together with titanium Torx hardware. Uni-directional carbon fiber has a wood grain look that lends itself to this design. The slip joint operation has a solid half stop operation for safety. The large, classic handle profile is comfortable during periods of extended use while maintaining a slim, easy to carry profile.
About AEB-L: AEB-L (Sandvik 13c26) is similar to a stainless 52100 and forms very small, hard evenly distributed carbides which delivers excellent toughness, edge retention, ease of sharpening and a fine razor like edge. This is a popular choice among custom makers.
Overall Length: 8.00"
Blade Length: 3.47"
Sharpened Length 3.25"
Blade Thickness: 0.088"
Blade Material: AEB-L
Blade Type: Stainless
Closed Length: 4.53"
Lock: Slipjoint
Handle Thickness 0.44"
Handle Material: Green G10
Liners: Titanium
Weight: 3.20 oz.