Donate to Win
Freeman Outdoor Gear 5.5" Model 451 "Little Beast" Field Knife
Retail Value:
$250.00
**** Chosen by Winner:
Brian H.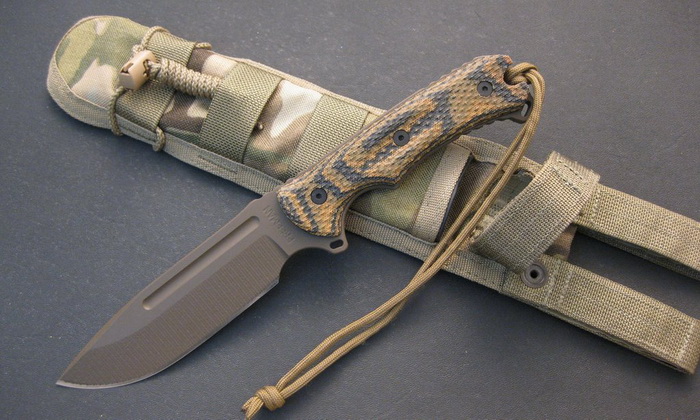 The Cerakote coated full 1/4" thick D2 tool steel full tang drop point blade features a main flat grind with a thick secondary swedge for maximum toughness and piercing ability.
The exposed pommel with jimping acts as a flat hammering surface and includes a lanyard attachment hole sized for the included 550 cord lanyard. 
The blade is heat treated and double tempered to a hardness of 58-60 Rc and the cutting edge is ground razor sharp at a 40 degree included angle (20 degrees per side).
The handle scales are 3D CNC machined and contoured from tough G-10 or Canvas Micarta with palm swell and diamond texturing for a secure and comfortable grip. The handle shape provides an ergonomic and balanced grip for use in multiple positions. Enhanced parrot's beak pommel and lower front guard aid in blade retention during chopping. Both the guard and pommel feature machined slots for additional user-added cord attachment points. Cerakote coated stainless steel hardware locks all the components into place.
Included is a Spec-Ops Brand fabric sheath with thermoformed puncture-proof Kydex lining.
This particular knife is as shown in the photo with Flat Dark Earth Cerakote, Camo G-10 and Spec-Ops Multicam Sheath.

Note from Jeff: The 5.5" Model 451 L.B. ("Little Beast") is a heavy duty hard use field knife that is just a badass cutting tool for the avid outdoorsman, Bush Crafter, hiker, camper or professional soldier. Made here in Oregon by FOG with all American made materials. This is my ideal go-to "WSHTF" field knife and comes with a lifetime warranty and lifetime free sharpening.
Specifications:
Knife Name:  5.5" Model 451 L.B. Field Knife
Designer:  Jeff Freeman
Overall Length: 10.7"
Blade Length: 5.5" from tip to front of handle
Blade Thickness:  .250" (1/4")
Blade Steel:  D2 Tool Steel
 Blade Hardness:  58-60 HRC
Blade Style:  Full-Tang Fixed Blade, Drop Point with Swedge
Coating: CerakoteTM Ceramic Firearms Coating
Handle Material: 3D Machined and contoured G-10 or Canvas Micarta with diamond texture
Sheath: Spec-Ops Brand Combat Master Sheath  Note: Sheaths have a thermo-formed insert and are fitted for right-side carry. If you would prefer a left-side carry, just add that into the notes during check-out.
Knife Weight: 11.6 Oz