Donate to Win
Freemont Knives Limited Edition Farson Blade and Farson Hunting Combo
Total Retail Value:
$188.00
Donated By:
Freemont Knives
**** Chosen by Winner:
Eric G.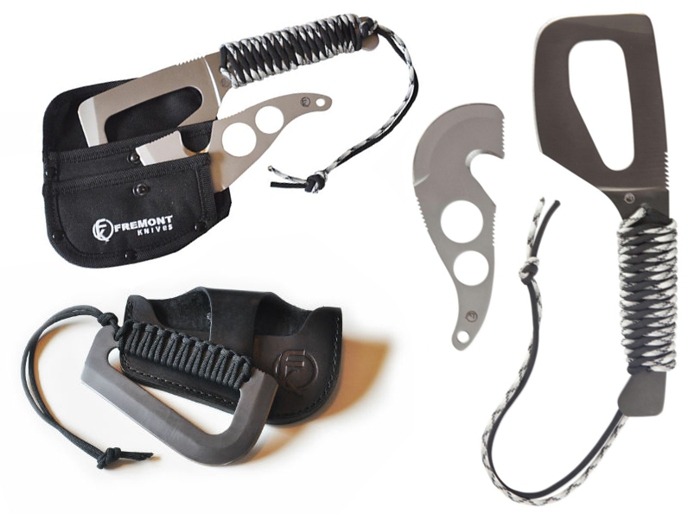 The Farson Blade is an idea that comes from an ancient tool we found in the Great Red Desert near Farson Wyoming. This is a remote area that has an incredible eco system with a unique type of elk, thousands of antelope and various other unique characteristics. The people who lived in this remote area developed crude tools that would cut, chop, slice and skin for the daily needs. We approached this with high quality stainless steel and modern manufacturing methods to come up with a versatile tool that can be used in extreme environments.
This blade is a compact, light, versatile tool that can be used to chop kindling, be made into a hatchet, skin process a large animal and even chop up your onions for dinner. It fits in your pack and could save your life.
This Limited Edition Carbon Farson Blade ($98.05) model is built from High Carbon Tool Steel and comes with an upgraded Leather Sheath.
Farson Hunting Combo ($89.95): After playing with our new Farson Hatchet and Hide Glider we realized that we had a complete package of some serious tools to work up your big game. The hatchet is fantastic in breaking bone and the glider skins like a champ. Tools made for easy clean up and designed right for the serious hunter. The overall package is consistent with the other Farson tools in being light weight and easily packed away with minimum space.
The Farson Hatchet out performs anything you may have had in your hands lately. Go ahead and choke up on the tool, use it like a knife or firmly grasp the handle and make short work of kindling. Whether you are building a shelter, skinning big game, or simply preparing dinner at camp this unique design gets it done. They say it ain't braggin, if it's true, so put one in your pack and go get it done, what ever it may be for you.
Keeping with the same inspiration and tradition, we made the Farson into this great compact hatchet. Light weight, versatile and easily packable, the Farson hatchet may just kick some of the other tools out of your pack.
The Hide Glider is another minimal tool that performs maximum work. What could be easier to clean? We just could not tolerate any more small gut hooks and designed this one to do the big jobs with thick hides. The serrations are designed for the index finger to rest when skinning.
One of our partners, Jason Wilson, a frustrated, closet knife designer, couldn't help himself in redesigning the skinning knife. Typical gut hooks are way too friggin' small and we really like keeping things simple. This simple design takes advantage of the natural hand position necessary to efficiently skin a big game animal. The only thing it seems to lack is a bottle opener.
Farson Blade Specifications
Overall Length: 6"
Thickness: .140"
Blade Material: High Carbon Tool Steel
Width: 3.1"
Cutting Edge Length: 7.75"
Sheath: Leather
Farson Hatchet Specifications
Coating: Titanium Nitride
Length: 9.5"
Width: 3.0"
Cutting Edge Length: 5.5"
Weight: 9.6 oz
Material: 1095 Carbon Steel
Thickness: .250"
Hide Glider Specifications
Thickness: .100"
Width: 2.125"
Material: 4CR15 Stainless Steel
Length: 6"
Cutting Edge Length: 3.375
Weight: 4 oz