Donate to Win
In Memoriam to Our Dear Departed Friend, The Gunny, GLOCK G41 Gen4 (.45 Auto) with Authorized Gunny's Signature Laser Engraved on the Top of the Slide PLUS USMC KA-BAR
Total Retail Value:
$998.52
Autograph PRICELESS!
Donated By:
Glock Inc. and Estate of R. Lee "The Gunny" Ermey and KA-BAR Knives, Inc.
**** Chosen by Winner:
Dennis S.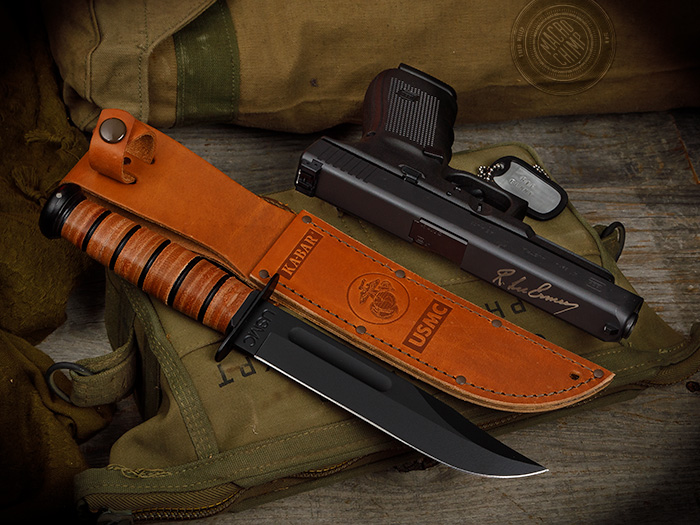 NOTE: Firearm will not be shipped directly to winner, but rather to Federal Firearms Licensee ("FFL") specified by winner (or selected by Knife Rights in Knife Rights' sole discretion). Winner can only take possession of firearm from the FFL. Winner must comply with all applicable legal requirements prior to taking possession of firearm. Winner is responsible for a shipping charge ($40 Pistol Caliber Pistols/$70 Rifle Caliber Pistols and Long Guns) and any fees charged by receiving FFL. Optics and Accessories will ship separately, not via the FFL. Click for complete rules.
This year we again honor our good friend and longtime supporter The Gunny with this Glock pistol, generously donated in his memory by Glock and graciously authorized by R. Lee Ermey's estate. This year  KA-BAR has again generously donated a Gunny Knife, designed by The Gunny. This was the last knife project The Gunny worked on before his passing in 2018.

The Gunny was a true patriot and a staunch Knife Rights supporter who said of this organization, "I whole-heartedly endorse the work of Knife Rights and support their mission! I detest the fact that such an organization is even necessary in the United States of America."
Semper Fi, Gunny. Rest in Peace.
Straight Talk from The Gunny on Our Knife Rights
I can't think of a more fundamentally useful, basic tool in existence today than a good quality knife.
Invented and used by primitive man, it is one of the few tools from the Stone Age that is still in use today.
A good knife is a must have in any emergency survival kit worth it's salt. No one in their right mind would go camping, hunting or fishing without a good sharp blade or two on his belt and in his pocket. How would we clean or trim our nails?
Restricting the rights of Americans to carry and utilize knives would rank right up there on the dumb scale with restricting the use of other tools such as hammers and wrenches.
I would like to know who the Alfred E. Neuman think-a likes are who come up with these ridiculous ideas. Whoever they are, we do need to keep sharp objects out of THEIR reach.
I whole-heartedly endorse the work of Knife Rights and support their mission! I detest the fact that such an organization is even necessary in the United States of America.

R. Lee "The Gunny" Ermey
Web site: www.rleeermey.com
GLOCK G41 Gen4 ($869.99) with Gunny's Signature Laser Engraved on the top of the slide
The GLOCK 41 Gen4 is a 45 Auto caliber pistol designed to maximize sight radius while achieving perfect weight distribution and balance. The longer barrel and slide help to reduce muzzle flip and felt recoil whereas the extended sight radius provides better accuracy. The Modular Back Strap system makes it possible to instantly customize its grip to accommodate any hand size. The reversible magazine catch makes it ideal for left and right-handed shooters.
Specifications
Caliber: 45 ACP

Barrel Length: 5.31″

Overall Length: 8.78″

Height (with magazine): 5.47″

Overall Width: 1.34″

Sight Radius: 7.68″

Barrel Rifling: Enhanced hexagonal profile with right-hand twist (GMB)

Length of Twist: 9.84″

Magazine Capacity: 13 Rounds

Weight Loaded: ~36.51 oz.

Trigger Pull: ~5.4 lbs

Trigger Travel: .49″
NOTE: This GLOCK G45 is not CA or MA compliant.

USMC KA-BAR, Straight Edge ($128.53)
The most famous fixed blade knife in the World. Our KA-BAR was designed to serve our troops during World War II and is still doing its job, with honors, 70+ years later. Tang stamped USMC. Leather sheath included.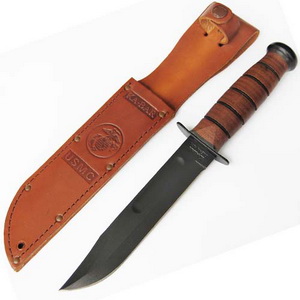 Specifications
Weight: 0.68 lbs
Blade length 7"
Overall length 11-7/8"
Grind: Flat
Shape: Clip
Handle Material: Leather
Stamp: USMC
HRC: 56-58
Edge Angle: 20 Degrees
Butt Cap /Guard: Powdered Metal / 1095 Carbon
Steel: 1095 Carbon
Sheath: Leather