Donate to Win
Harlan Whitman - OOAK Forge Pizza Slayer and Titanium OOAK Slingshot
Total Retail Value:
$600.00
Donated By:
Harlan Whitman - OOAK Forge
**** Chosen by Winner:
Mark M.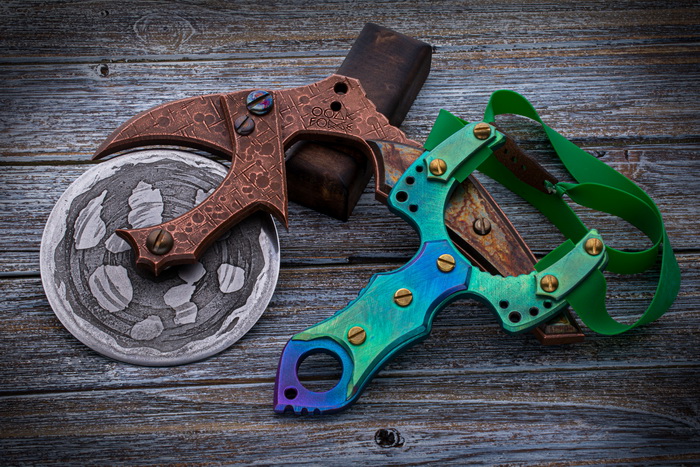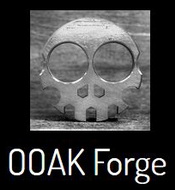 Inspiration for the OOAK Forge Pizza Slayer ($400) comes from being in a third generation Pizza family. My Grandfather founded Pagliai's Pizza some of the best and most prideful pizza you can sink your teeth into. I wanted to create something more worthy that the basic plastic handled junk they have used for years. This is the Pizza Slayer great for adding flare to a kitchen or amazing that pizza enthusiast with a gift you know they will love.
Frame: Brass
Handle: Titanium, Stainless Hardware
Blade: Acid Etched, Ceramic Tumbled, AEB-L High Carbon Stainless Steel
Over All Length: 9.00"
Weight: 1 lb 10 oz
Comes with custom Maple stand.
Designed and Handmade in Portland, OR, this Titanium OOAK Slingshot ($200) stands above the average slinger that you are used to seeing. This slingshot will not rot or break. It has the ability to be passed down through generations.
Frame: Anodized Titanium
Handle Scales and Band Locks: Anodized Titanium
Hardware: Brass
Width Between Forks: 2.1875"
Max Width: 3.6875"
Max Handle Width: 1.25"
Frame Thickness: .235"
Handle Thickness: .56"
Length: 6.25"
Weight with Band and Magnet Lanyard: 9.9 oz