Donate to Win
Rick Hinderer Knives Jurassic Slicer - Battlefield Pickup (BPU 576)
Retail Value:
$650.00
Donated By:
Rick Hinderer Knives
**** Chosen by Winner:
Mark B.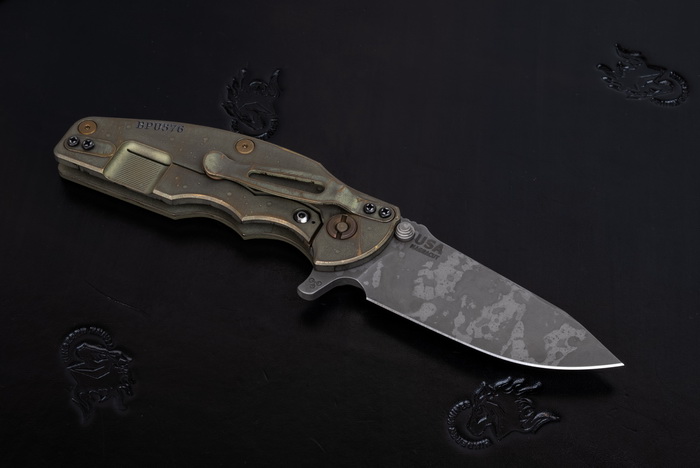 I designed the Jurassic with a midsized hard working folder in mind. It is a folder that bridges the gap between the 3in XM-18 and the 3.5in XM-18. It was designed with total power cutting ergonomics in mind! The drop edge design allows the cutting edge to be lower in the push stroke style of cutting that you normally use when cutting aggressively. The higher back of the handle and the dropped edge of the blade combine to give the user unparalleled comfort and usability. Put this knife in your hand and feel for yourself why my knives are known for their very comfortable feel! The Jurassic also comes standard with my H.M.B.S or Hinderer Modular Backspacer System. This system allows you to change out the backspacer using just a allan wrench. Also the Jurassic now comes with Triway pivot system onboard!
Battlefield Pickup Series - This ongoing series that is included in all of the products that we make here at Rick Hinderer Knives grew from my other passion which is military history. What I have done is taken my regular production Knives, Pens, and accessories and made them look like a military artifact that was picked up right off of a battlefield! The finish on the blades, handles, hardware, ect. is meticulously applied by hand to give it that unique very special look. Because of this the finishes vary knife to knife. Also, you will find on some of the BFPU series products markings called proof marks, and cartouches that were applied by military and arsenal inspectors to weapons, bayonets, knives and other military items before the item was shipped to the government arsenals. This really cool touch gives all Rick Hinderer Knives BFPU products a unique flair not seen anywhere else! As an extra special touch all BFPU series knives are serialized with a special serial number. And ALL BFPU products are a very limited quantity!
Blade Grind: Slicer
Blade Length: 3.375″
Handle Length: 4.5″
Overall Length: 7.875″
Blade Thickness: 0.165″
Lockside Thickness: 0.165″
Liner Thickness: 0.050″
Overall Handle Thickness: 0.526″
Handle Material: OD Green G10
Blade: Battlefield Pickup
Lockside: Battlefield Pickup
Blade Steel: CPM-Magnacut