Donate to Win
Rick Hinderer Knives "KaBar" Fighting Utility Knife of WWII
Retail Value:
$575.00
Donated By:
Rick Hinderer Knives
**** Chosen by Winner:
Mitchell C.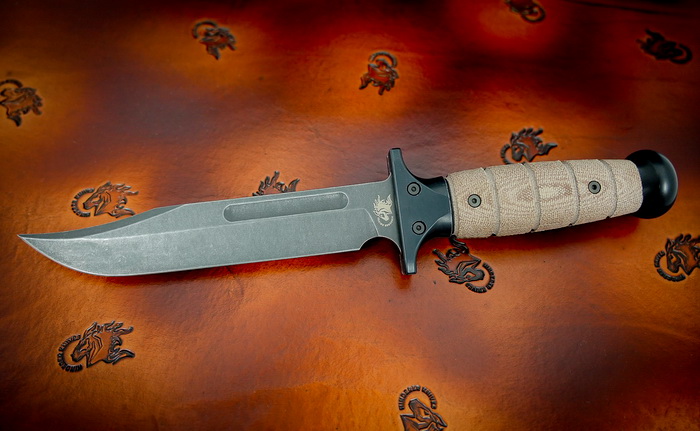 This Rick Hinderer Knives "KaBar" has a Parkerized blade and Brown Micarta handle scales.
Introducing a new fixed blade knife from Rick Hinderer Knives that embodies my love for history, as well as my passion for designing and making the very best quality knives.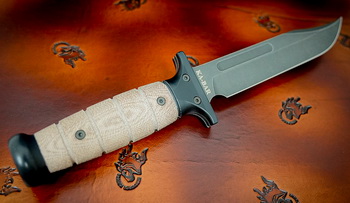 First adopted by the United States Marine Corps (USMC) in November of 1942 as the 1219C2 combat knife, which was later designated as the USMC Mark 2 Fighting Utility Knife. This model would go on to be produced by numerous manufacturers. However, it was one manufacturer whose name would stick with the knife and forever be fondly known by the servicemen who would use and rely on the knife through wars and conflict spanning decades and that name is KaBar.
In late 2019, I started thinking about a project that I wanted to do to commemorate the 75th anniversary of the ending of World War II, which would fall in 2020. Of course when one thinks of WWII and the knives used in that war, you automatically remember the KaBar knife. So the seed was planted in my mind that I wanted to make a USMC Mark 2 Fighting Utility Knife or KaBar. I did not want to make a direct copy of the KaBar, but rather my interpretation of this iconic knife. Starting with the blade, I left the exact dimensions as the original except, that I added a finger choil, much like the finger choil on a lot of my blade designs. The original KaBar is of the hidden tang construction, whereas my Fighting Utility Knife, is made as a full tang construction, which makes the knife very durable. Also, instead of a separate thin metal guard, I opted to make the guard integral with the tang and use hard anodized aluminum "bolsters" to complete the guard. These choices make for a very sturdy constructed cross guard. For the handles, we used premium 3D machined micarta slabs that are indexed onto precision made nuts running through the tang. We use our own custom made screws which then thread into the handle nuts, ensuring a good, solid grip and a sturdy build that will never fail. Bringing up the back of the knife, is a pommel that closely mirrors the original shape but with a modern flair. The pommel is made of aluminum that is hard coat anodized and is computer numerical control (CNC) 3D machined to fit precisely onto the full tang, which is then securely fastened with a custom made precision screw that fastens directly into the tang. All of this makes the Rick Hinderer Knives Fighting Utility Knife of WWII the most advanced fixed blade of its type, while still maintaining its historical roots.
Of course when I was dreaming up this cool, commemorative project, one aspect of it kept coming up in my mind: it has to be a KaBar. I could have just settled on calling it a WWII Vintage Fighting Utility Knife, or even a Mark 2, but that just wouldn't do since the troops lovingly called this pattern a "KaBar." I decided I wanted to also pay homage to the company whose version of the model 1219C2 Fighting Utility Knife was so popular and respected that when someone saw the design produced by any other company, they still called it the KaBar. So I called up my good friend John Stitt, CEO of KaBar Knives in Olean, New York with the idea of Rick Hinderer Knives licensing the company name KaBar to add to the ricasso of each blade KaBar. He enthusiastically said, "yes" and added that the company KaBar, had never licensed another company to add their name and logo to use on a Fighting Utility Knife before! I was more than excited about this project having the blessing from KaBar to call this knife the Hinderer Knives KaBar!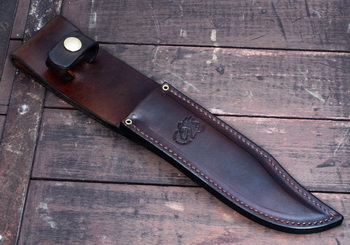 To complete this fixed blade project I needed a very high quality sheath. So once again, I turned to the skilled Amish craftsmen at Woodland Harness to make a very high-quality leather sheath to keep with the historical WWII flair. These sheaths are not only great looking, but also built in the Amish tradition of tough workability! -- Rick

Knife Specs
Blade Length: 7 in
Handle Length: 4.9 in
Overall Length: 12.08 in
Blade Thickness: 3/16 in
Blade Steel: O1 Tool steel
Handle Material: Micarta
Bolsters, Buttcap: 6061 Aluminum Type 3 hardcoat Anodized black
Hardware: 303 SS custom made at RHK
Custom premium leather sheath by Woodland Harness