Donate to Win
Rick Hinderer Knives XM-18 3.5" Automatic - Battlefield Pickup (BPU 571)
Retail Value:
$875.00
Donated By:
Rick Hinderer Knives
**** Chosen by Winner:
Ryan R.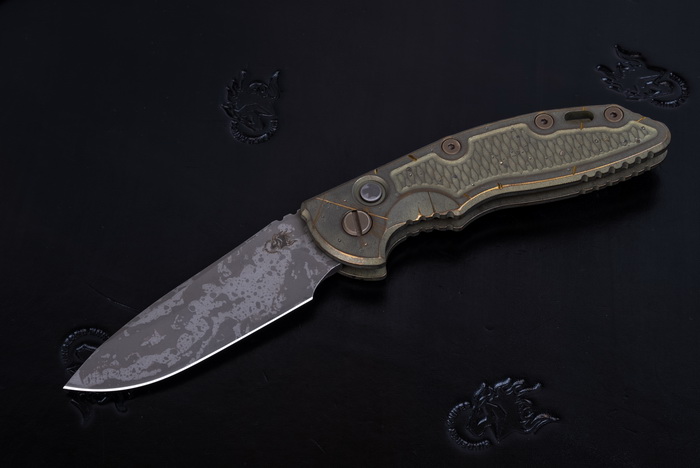 NOTE: Restrictions on delivery of automatic knives in accordance with federal and state laws apply. Winner is responsible for compliance with all state and local laws governing automatic (switchblade) knives. Automatic knives CANNOT be shipped to a P.O. Box, we MUST have a STREET ADDRESS. Click for complete rules.

In 2021, after five years of effort, Knife Rights' Ohio Knife Law Reform bill, SB 140, eliminated "the prohibition against manufacturing, possessing for sale, selling, or furnishing certain weapons..." paving the way for Rick Hinderer Knives to finally produce an automatic (switchblade) knife.
Battlefield Pickup Series - This ongoing series that is included in all of the products that we make here at Rick Hinderer Knives grew from my other passion which is military history. What I have done is taken my regular production Knives, Pens, and accessories and made them look like a military artifact that was picked up right off of a battlefield! The finish on the blades, handles, hardware, ect. is meticulously applied by hand to give it that unique very special look. Because of this the finishes vary knife to knife. Also, you will find on some of the BFPU series products markings called proof marks, and cartouches that were applied by military and arsenal inspectors to weapons, bayonets, knives and other military items before the item was shipped to the government arsenals. This really cool touch gives all Rick Hinderer Knives BFPU products a unique flair not seen anywhere else! As an extra special touch all BFPU series knives are serialized with a special serial number. And ALL BFPU products are a very limited quantity!
Operation: Pushbutton Automatic
Blade Grind: Spearpoint
Blade Length: 3.50″
Handle Length: 4.75″
Overall Length: 8.25″
Blade Thickness: 0.165″
Lockside Thickness: 0.165″
Overall Handle Thickness: 0.540″
Handle Finish: Battlefield Pickup
Blade Finish: Battlefield Pickup
Blade Steel: CPM-20CV