Donate to Win
Rick Hinderer Knives XM-18 3.0" Battlefield Pickup Wharncliffe - Serial #437
Retail Value:
$650.00
Donated By:
Rick Hinderer Knives
**** Chosen by Winner:
Robert W.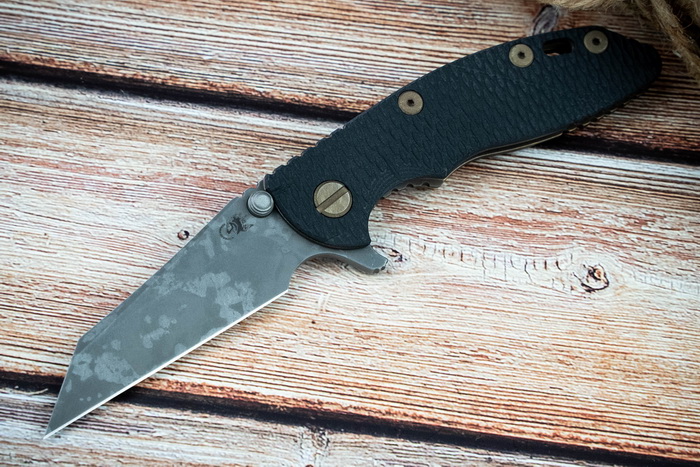 Battlefield Pickup Series: This ongoing series that is included in all of the products that we make here at Rick Hinderer Knives grew from my other passion which is military history. What I have done is taken my regular production Knives, Pens, and accessories and made them look like a military artifact that was picked up right off of a battlefield! The finish on the blades, handles, hardware, ect. is meticulously applied by hand to give it that unique very special look. Also, you will find on some of the BFPU series products markings called proof marks, and cartouches that were applied by military and arsenal inspectors to weapons, bayonets, knives and other military items before the item was shipped to the government arsenals. This really cool touch gives all Rick Hinderer Knives BFPU products a unique flair not seen anywhere else! As an extra special touch all BFPU series knives are serialized with a special serial number. And ALL BFPU products are a very limited quantity!
The XM-18 is known the world over as one of the toughest tactical folders regardless of your mission. Rick's focus when designing the XM-18 was a no nonsense tactical tool ready for the simplest cutting tasks to high speed low drag operations.
The Hinderer wharncliffe blade style is one of the most useful blade styles to be had in a knife! The straight edge design holds a lot of slicing power while the nimble tip makes those precise cuts a breeze. The upward sloping angle of the blade in relation to the handle is the secret to its superior slicing ability and the design of the top swedge allows for more tip strength. The Wharncliffe has always been a big Hinderer Knives favorite!
The XM Series CNC flat ground blade offers maximum cutting potential. The oversized choil permits choking up on the blade for more precise work. The blade locks up on a solid ¼ in diameter Thumb stud which is press fitted into the blade. This makes for a very strong lockup as there is no loosening of the thumb stud which can happen with two piece designs. The fact that the thumb stud locks up against the frame adds an incredible amount of strength to the sideways torque of the blade as the sideways stresses are being stopped by the whole handle side, thus relieving the stress that would normally be put on the pivot.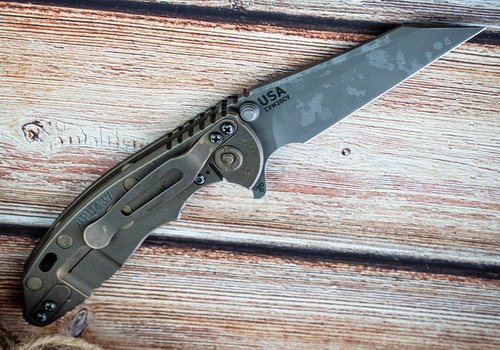 Serial Number: 437
Blade Grind: Wharncliffe
Blade Steel: CPM20CV
Blade Length: 3″
Handle Length: 4.125″
Overall Length: 7″
Blade Thickness: 0.140″
Lockside Thickness: 0.125″
Liner Thickness: 0.050″
Overall Handle Thickness: 0.425″
Handle Material: BLACK G10
Blade: BFPU
Lockside: BFPU
Blade Steel: CPM20CV