Donate to Win
Jake Hoback Knives Black Stallion WarHorse Framelock Flipper
Retail Value:
$850.00
Donated By:
Jake Hoback Knives
**** Chosen by Winner:
Aaron C.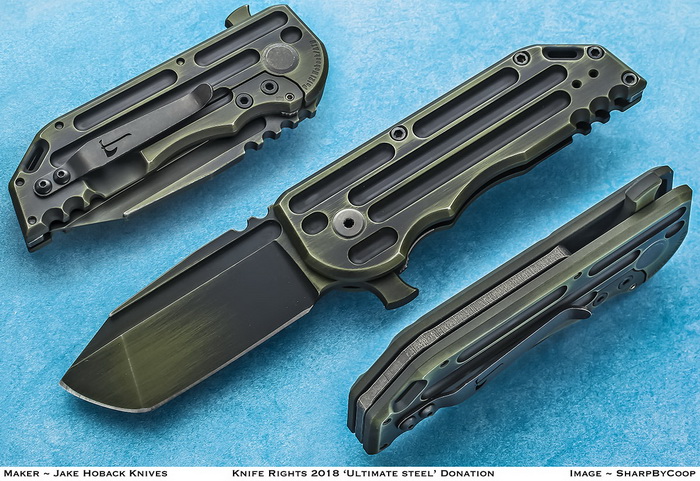 This Jake Hoback/Alphahunter Collaboration Black Stallion WarHorse in Battleworn Green finish has a back story to it.  From Jake:
A Few Years Ago:
I had been making folders for about 2 years when, in 2011, Chad of Alphahunter Tactical Design approached me about a project. That project was the WarHorse -- a honkin' huge knife with a full 4" blade and massive slabs of .200 thick titanium!  Chad and I went back and forth on design parameters for a few days, and the original WarHorse was born.  We did several different variations on the design and even did a mini-flipper version.  The design was amazingly popular, and we sold out of each run we made within days.
A few years went by and Chad and I kept busy growing our respective businesses and doing other things on our own.  All along, though, I've wanted to get back with him and make another run!
Today:
I'm proud to announce that Chad and I arranged our schedules to collaborate once again on another run. Plus, I pulled out all the stops in a redesign of the knife! I ran a full FEA (Finite element analysis) on it to check for any weak spots. Pocketed all non-structural components to get the weight down. Did a ground-up design of a perfect hardened lock insert.  Even did a full Bio/Organic 3D machined semi-floating backspacer. Added my HRD (Hoback Roller Detent), HCP (Hoback Cammed Pivot), and hardened stainless bearing races.
The result? A brand new WarHorse Chad has dubbed the "Black Stallion!"
Key features include:
3" Blade
Battleworn Green
Hardened Stainless Lock Insert
Hardened Stainless Bearing Races
Full Bio/Organic 3D Machined Backspacer
Redesigned Ergonomics for Comfortable Hard Use
Full Internal Lightening Pockets
Proprietary Hoback Cammed Pivot
Integrated Lanyard Slot
Full FEA (Finite Element Analysis) for Complete Design Integrity