Retail Value:
$202.95
Donated By:
Hogue Knives
**** Chosen by Winner:
Ronald S.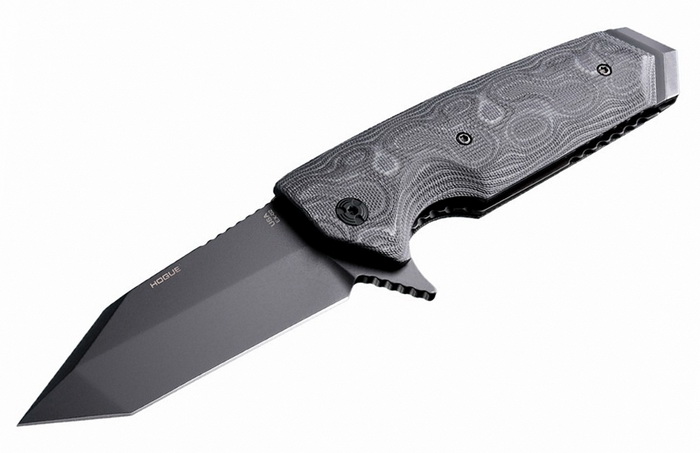 The EX-02 from Hogue Knives is a sturdy Elishewitz design that is comfortable, sturdy and made to last. The blade on the EX-02 is cryogenically treated 154-CM steel that is hand sharpened and honed. The handle is built with a thick liner lock frame and sports a recessed lanyard attachment between the back spacer and skull crusher/glass breaker pommel. The handle also has a manual safety slide to prevent lock failure under extreme conditions. Looks matter, so the EX-02 is dressed up with G-Mascus scales and a stylish tip-up/down carry pocket clip.
This EX-02 has a 3.75" tanto blade with flipper and black/gray G-Mascus G-10 scales.
SPECS
• Blade Length: 3.75"
• Closed Length: 5.125"
• Overall Length: 8.75"
• Weight: 7.08 oz
BLADE
• Style: Tanto with Ambidextrous Flipper
• Thickness: 0.150"
• Material: 154CM Stainless Steel
• Hardness: 57-59 HRC
• Treatment: Cryogenically Heat Treated
• Finish: Black Cerakote®
• Flat Grind - Hand Honed Edge
FEATURES
• Locking Mechanism: Stainless Steel Liner with Manual Safety
• Frame: G-Mascus® Black G10 Scales
• Pocket Clip: Stainless Steel Flat Wireframe, Tip Up or Down Carry
• Hidden Lanyard Pin
• Impact Pommel