Retail Value:
$299.95
Donated By:
Hogue Knives
**** Chosen by Winner:
William S.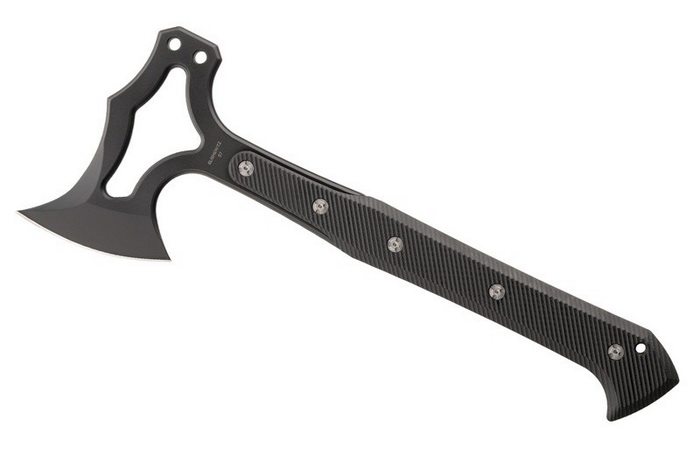 Designed in collaboration with custom knifemaker Allen Elishewitz, the Hogue EX-T01 Tomahawk is a dependable tool for both tactical and outdoor applications. Its lightweight build features a partial-tang, skeletonized S-7 tool steel head with a hand-honed edge for the swift execution of chopping and slashing tasks. The back of the head can be used as an impact tool, and has two holes to accept optional spike, pry bar, and hammer attachments sold separately. Thick G-10 handle scales offer high durability and impact resistance, and have a grooved texture for an unwavering grip. The EX-T01 includes a G-10 sheath with powerful magnets and a solid G-10 catch that provides firm retention without hindering draw speed.

THE BLADE
• S-7 Steel
• Hardness: 54-56 HRC
• Black Cerakote™ Finish
• Hand Sharpened & Honed Edge
• Blade guard included for accessory use
THE HANDLE
• Solid Black G10
MODES OF CARRY
• G10 Sheath with Positive and Magnetic Retention
• Form Fitted Carry Case
• Hole Spacing Accommodates Tek-Lok
• Waist Band Paddle Included
• MOLLE and Belt Loop Attachments Optional
SPECS
• Tomahawk OAL: 14.125"
• Tomahawk Weight: .95 lbs.
• Tomahawk, Sheath & Paddle Weight: 1.45 lbs.