Donate to Win
Jack Wolf Knives Gunslinger Jack Front Flipper Frame Lock - CamoCarbon Bazooka Pink
Retail Value:
$349.99
Donated By:
Jack Wolf Knives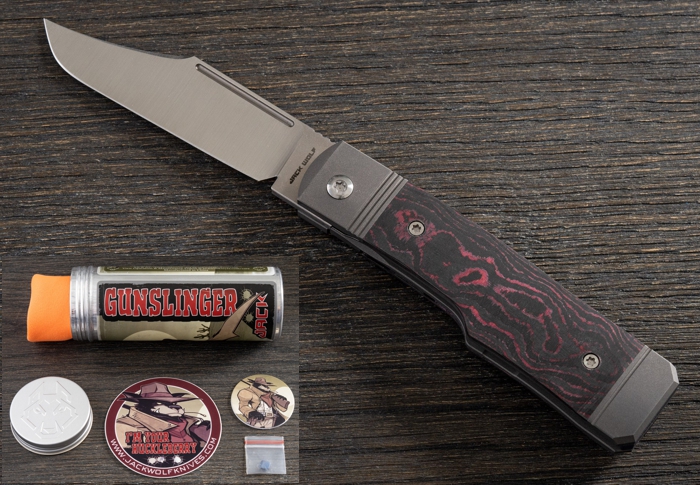 Stock Photo – CamoCarbon pattern may vary from shown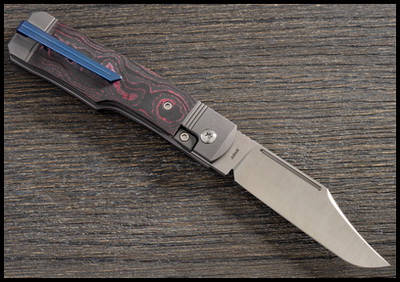 Jack Wolf Knives aims to take traditional folders and bring them up to par with today's materials and manufacturing techniques. The Gunslinger Jack is a Gunstock model featuring a Front Flipper S90V clip blade on ceramic bearings with a wicked awesome swedge and the signature handle shape that gives the design its name. The quality and  presentation is second to none from Jack Wolf Knives.
Lots of firsts with this Gunslinger Jack; first frame lock, first pocket clip (milled), first front flipper (you can also middle finger flick open from the ambidextrous fuller or slow roll it open with your thumb on the fuller). This ticks all the must-have EDC boxes in a traditional profile.

Includes collectible tube packaging with artwork by Sean Tiffany, a Jack Wolf sticker, Jack Wolf microfiber towel and a Pocket Clip Recess Plug to to fill the hole if you desire to remove the pocket clip for clipless carry.
Gunslinger Jack Specifications

Pattern: Gunstock
Style: Frame Lock (Bolster Lock) on Ceramic Bearings
Scales: CamoCarbon Bazooka Pink
Integral Bolsters & Frame: 6AL/4V Bead Blasted Titanium
Hardware: Polished Titanium Torx, Stainless Lock Bar Insert
Extras: Pocket Clip Recess Plug for Clipless Carry Included
Blade: Hollow Ground Crucible S90V
Closed Length: 4.12" (104.6 mm)
Blade Length: 3.23" (82.1 mm)
Cutting Edge: 2.86" (72.8 mm)
Scale to Scale: 0.46" (11.7 mm) or 0.58" (14.7mm) incl. clip
Blade Stock: 0.12" (3 mm)
Weight: 2.9 oz (82 gm)
HRC: 61
Knife Made in: China
Tube Artwork: Sean Tiffany