Retail Value:
$500.00
Donated By:
JMC Custom Knives
**** Chosen by Winner:
Jason M.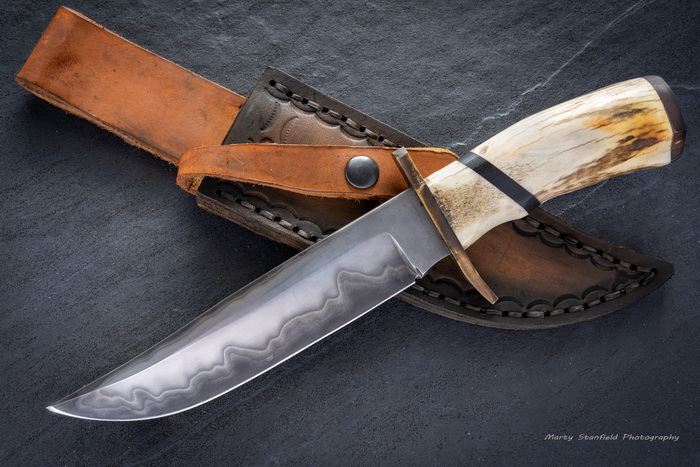 This Bowie was forged from a stainless San Mai (3 layers) forged from 416 SS (outside) and a vintage (pre 1966) Atikins Silver Steel mill file.  The Silver Steel alloy has between 1 1/2% carbon and around .35% chromium.
E.C. Atkins & Co. was a major saw and tool manufacturer in Indianapolis, Indiana.  In 1952 it was purchased by Borg-Warner Corporation.  The Indianapolis factory was closed in 1960-61 and its operations relocated to Greenville, Mississippi.  Nicholson File Co. bought the Atkins Division of Borg Warner in 1966.  Atkins had 14 major product lines which Nicholson quickly consolidated or eliminated.
The stabilized elk antler handles is supported on a narrow tang/bolt through construction with the pommel being the files original stamped tang.