Total Retail Value:
$544.84
Donated By:
KA-BAR
**** Chosen by Winner:
Martin O.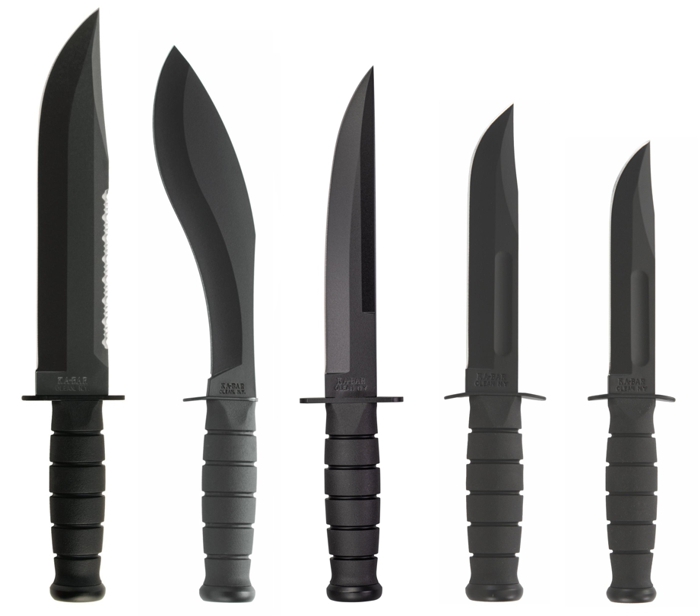 The most famous fixed blade knife in the World - "the KA-BAR" - was designed to serve our troops during World War II and is still doing its job, with honors, nearly 70 years later.
These knives feature slip-resistant Kraton G handles and 1095 Cro-Van steel.
KA-BAR Big Brother Kraton G ($143.95)
Blade Length: 9.375"
O/A Length: 14.375"
Black Combat Kukri ($108.23) This heavy-duty chopper gets its shape from its older sibling, the Kukri Machete. At about 80% the size of the larger version, the Combat Kukri performs just as well at clearing brush and small tree limbs. Its smaller profile makes it a little easier for toting around - at just shy of a pound, it's a more appropriately sized tool for combat carry as well.

Blade Length: 8"
O/A Length: 13.375"
KA-BAR Black Modified Tanto ($102.28) is a new take on a classic blade design.

Blade Length: 8"
O/A Length: 12.75"
KA-BAR Full Size Black ($108.28)
Blade Length: 7"
O/A Length: 11.75"
Black Short KA-BAR ($82.10)
Blade Length: 5.25"
O/A Length: 9.25"