Donate to Win
Customized KA-BAR Knives Bejeweled E.W. Stone Fixed Blade
Retail Value:
$2,200.00
Donated By:
KA-BAR
**** Chosen by Winner:
Jon U.

This one-off customized KA-BAR Limited Edition E.W. Stone knife features 29 gemstones (emeralds, amethyst, rubies and garnets) inset into the skull pommel of the handle, along with a polished brass tooth. 
---
KA-BAR and E.W. Stone, Jr., E.W. Stone's son, have collaborated to release 350 of the iconic, theater-made World War II knives. Using the original casts, the legendary skull and cobra handle grips a blued KA-BAR USMC Fighting/Utility knife.
The climate and the nature of combat in the South Pacific lead to the creation of the Stone Knife. The leather handle of the KA-BAR USMC Fighting/Utility knife often fell prey to the humidity, rainfall, and combat conditions of the Pacific campaign. Though the blade remained intact, the handles occasionally suffered from jungle rot. In a display of resourcefulness, E.W. Stone, Sr., who worked in the foundry of the USS Holland, cast new handles onto the KA-BAR blades. Stone salvaged material from downed Japanese aircraft to make his signature handle. Approximately 250-300 E.W. Stone theater knives were made during World War II. Those that remain are some of the most prized and valuable of WWII collectables.
Each knife handle was personally finished by E.W. Stone, Jr. (check out the video above) and includes a certificate of authenticity signed by KA-BAR President John Stitt and E.W. Stone, Jr.
The modern KA-BAR E.W. Stone Knife features a JRE semi-custom leather sheath, a golden oak Gerstner display case, an informational booklet and DVD, all packed in a simulated WWII Mortor shell tube.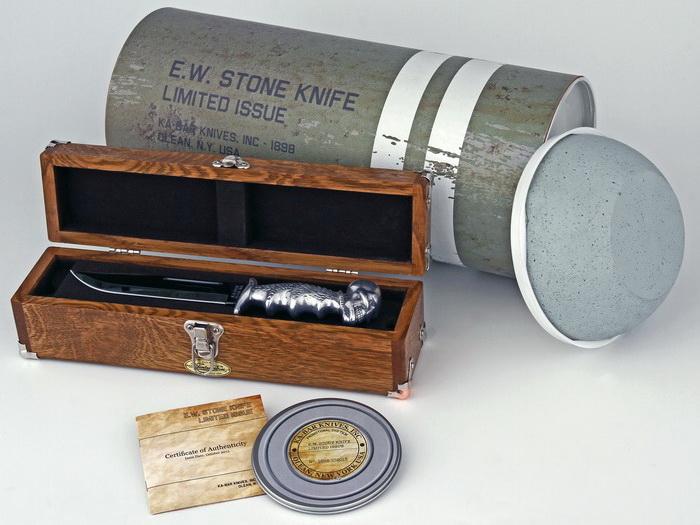 Blade Length: 7"
Blade Style: Clip Point
Blade Steel: 1095 Cro-Van
Hardness: 56-58 HRc
Overall Length: 12.25"
Handle: Cast Aluminum from Original WWII molds
Sheath: Leather