Donate to Win
Magnum Research MagnumLite RimFire .22LR Barracuda American Black Walnut Rifle
Retail Value:
$824.00
Donated By:
Magnum Research - Kahr Firearms Group
**** Chosen by Winner:
Christopher C.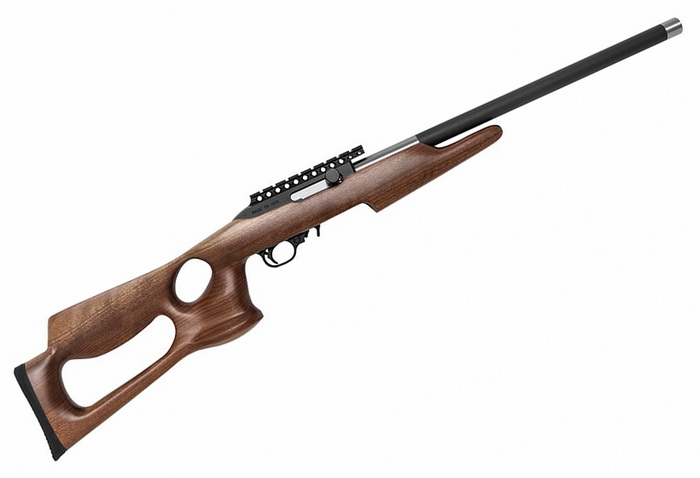 NOTE: Firearm will not be shipped directly to winner, but rather to Federal Firearms Licensee ("FFL") specified by winner (or selected by Knife Rights in Knife Rights' sole discretion). Winner can only take possession of firearm from the FFL. Winner must comply with all applicable legal requirements prior to taking possession of firearm. Winner is responsible for a shipping charge ($40 Pistol Caliber Pistols/$70 Rifle Caliber Pistols and Long Guns) and any fees charged by receiving FFL. Optics and Accessories will ship separately, not via the FFL. Click for complete rules.
The 22LR Barracuda American Black Walnut Rifle's patented graphite barrel is unique to Magnum Research, Inc. It provides lighter weight, better heat dissipation than steel and is extremely stiff. MAGNUM LITE® receivers are CNC machined from a 6061-T6 aircraft aluminum forging and include an integral Weaver type rail for optics. The bolts are manufactured and machined from heat treated 4140 steel with tight bolt face depth tolerances for better accuracy.
The accuracy of Magnum Research MLR rifles has become legendary. The MLR was designed and is entirely manufactured in the United States. It was engineered to be the manifestation of the terms lightweight and performance in a rimfire rifle. The MLR series can be had in both 22LR and 22 Mag; as well as with a variety of barrel/stock combinations to suit your budget and shooting interests.
At the heart of the MLR rifle is the one piece, forged 6061-T6 receiver. This receiver sports an integral Picatinny rail that is new for 2018. All receivers are black hard coat anodized for durability and wear. If the receiver is the MLR's heart, its soul is the custom barrel. Shooters can select from several barrel models: patented graphite, patented Ultra tensioned, stainless steel, or patent pending integrally suppressed "TTS-22" barrels. Accompanying these options are a full selection of stocks suitable for right and left handed shooters, made from either polymer or wood. Essentially the MLR is a custom rifle at a factory price.
If you are looking for the most accurate 10 shots you can fire from a production 22LR semi-auto (9 shots from the 22 Mag), the MLR will end your search. MLR rifles from Magnum Research are not the least expensive 22 semiautomatic rimfire rifles you can buy, but they are without question the most accurate.
SKU: MLR22BW
Caliber: .22 Long Rifle
Barrel Length: 17"
Overall Length: 35.5"
Stock: Barracuda American Black Walnut Stock
Trigger Reach: 2.75"
Sights: Rail on Receiver
Weight: 4.33 lbs. / 69.3 oz.
Magazine: One 10 round