Donate to Win
KA-BAR Becker BK7 Combat Utility autographed by retired Cowboys Wide Receiver Kelvin Edwards PLUS another (unsigned) Becker BK7 Combat Utility to use! One for SHOW, One for GO!
Total Retail Value:
$441.54
Autograph PRICELESS!
Donated By:
KA-BAR Knives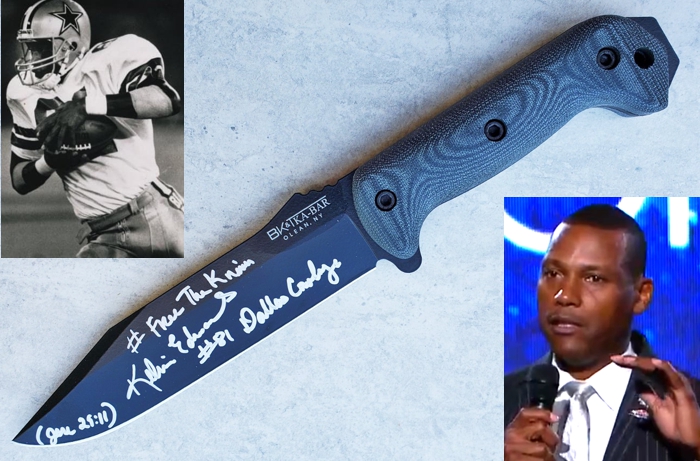 Knife signed at the 2023 BLADE Show.

Knife signed at the 2023 BLADE Show.
Kelvin Edwards is a former National Football League player for the New Orleans Saints and Dallas Cowboys. Besides his current business interests, he heads up a non-profit, Kelvin's Kindness.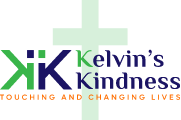 Kelvin's Kindness is a nonprofit organization dedicated to addressing various problems faced by families in need. Our mission is to empower and support families by providing housing assistance, nutritious meals, health education, back-to-school supplies, tutoring services, and summer enrichment opportunities to those who are struggling in these areas. We believe that by addressing these needs, we can help families improve their quality of life and achieve their full potential. Additionally, we recognize the importance of diversity and inclusion in our programs, and strive to create a welcoming and supportive environment for all those we serve. Through our commitment to mentoring young people, we aim to provide them with the guidance and support they need to navigate life's challenges and succeed in their personal and academic pursuits.
Our vision is to make a significant impact in underrepresented and minority communities by closing the gap between quality education, equal opportunities, and long-term community support. We aim to help families break the cycle of generational educational and financial deficits, creating a more equitable and prosperous future for all.
---
Ethan Becker is a man after our own heart. An avid outdoorsman who enjoys martial arts and hunting, Becker founded Becker Knife and Tool Corporation in the early 1980's to design the industrial-strength tactical and survival knives he'd always wanted for himself. What we love about Becker, other than his innovative designs, is that he spends so much time in the outdoors testing new equipment and designs. KA-BAR is proud to be the manufacturer of Becker Knife & Tool products - all brought up to date and approved by Becker himself.
KA-BAR Becker BK7 ($171.27)  The ultimate BK&T all-purpose utility knife was designed specifically for soldiers and adventurers requiring a sturdy but lightweight combat knife that can stand up to hard use. MOLLE compatible heavy-duty polyester sheath included. Becker Knives "Work for a living". Note: Sheath sold with the Becker Combat Utility also accommodates the small, skeleton-handled knife #BK13 Remora.
These Becker BK7s include KA-BAR Black Micarta® Becker Handle Sets ($49.50 each).

Specifications
Blade Length: 7" 1095 CroVan

Overall Length: 12.75"

Blade Thickness: 0.188"

Blade Coating: Black epoxy powder coat

Grind: High, flat saber grind

Handle Material: Full tang, Grivory

Sheath: Black Nylon w/ kydex insert

Weight: 12.9 oz.

Made in USA