Retail Value:
$500.00
Donated By:
House Mountain Blades
**** Chosen by Winner:
Michael S.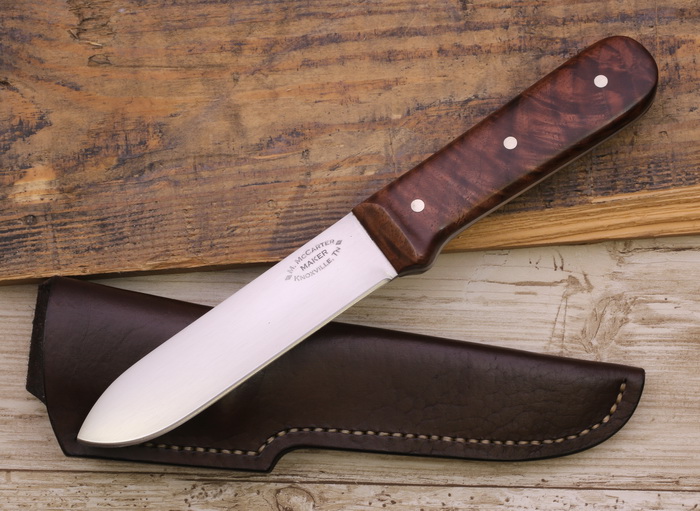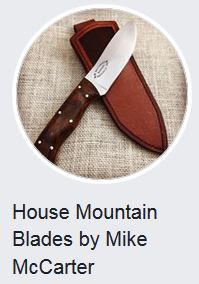 Mike McCarter has crafted the most accurate reproduction of the Kephart Sheath Knife due to Sgt. McCarter having unprecedented access to the only known example of a Colclesser Bros. original Kephart Sheath Knife outside of the Kephart Museum collection.
Blade Length: 5"
Overall Length 9.75"
Blade Steel: 1/8" O1 Tool Steel
Heat Treat: Paul Bos, RHC 59
Weight: Approximately 6 oz.
Handle: Walnut
Sheath: 8-9 oz. Leather
Who is Horace Kephart?   http://www.pbs.org/nationalparks/people/behindtheparks/kephart-masa/
Kephart's knife as described in his book "Camping and Woodcraft":
"A camper has use for a common-sense sheath-knife, sometimes for dressing big game, but oftener for such homely work as cutting sticks, slicing bacon, and frying "spuds." For such purposes a rather thin, broadpointed blade is required, and it need not be over four or five inches long. Nothing is gained by a longer blade, and it would be in one's way every time he sat down.
Such a knife, bearing the marks of hard usage, lies before me. Its blade and handle are each 4 1/2 inches long, the blade being 1 inch wide, 1/8th inch thick on the back, broad pointed, and continued through the handle as a hasp and riveted to it. It is tempered hard enough to cut green hardwood sticks, but soft enough so that when it strikes a knot or bone it will, if anything, turn rather than nick; then a whetstone soon puts it in order. The Abyssinians have a saying, "If a sword bends, we can straighten it; but if it breaks, who can mend it? " So with a knife or hatchet
The handle of this knife is of oval cross-section, long enough to give a good grip for the whole hand, and with no sharp edges to blister one's hand. It has a 1/4 inch knob behind the cutting edge as a guard, but there is no guard on the back, for it would be useless and in the way. The handle is of light but hard wood, 3/4 inch thick at the butt and tapering to 1/2 inch forward, so as to enter the sheath easily and grip it tightly."