Donate to Win
Kizer Cutlery Fatcarbon Set: Azo Towser K Elmax Blade Fatcarbon (Ki4593A2) PLUS Begleiter2 20CV Button Lock Fatcarbon (Ki4458.2BA3)
Total Retail Value:
$494.00
Donated By:
Kizer Cutlery
**** Chosen by Winner:
Steve B.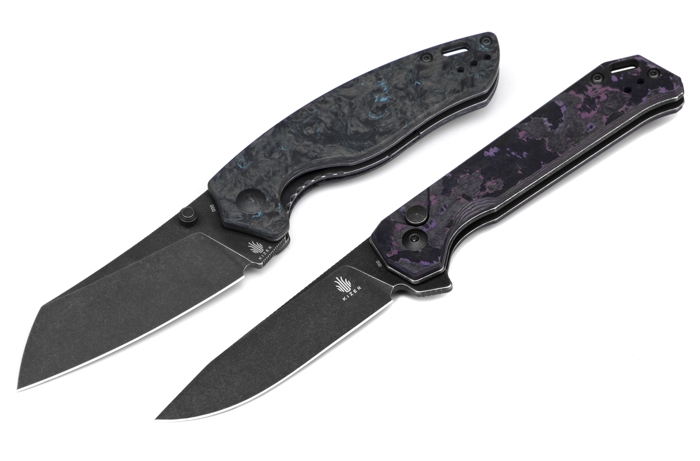 Stock Images – Not to Scale

The Towser K ($240 MSRP)  designed by Azo, is a distinctive, unique folding knife designed to be a functional and attractive EDC knife. Be it tape, food, packaging, or whatever you encounter, the Towser K will make your cutting job easy and comfortable.
The Begleiter 2 ($254 MSRP) Different from the previous Begleiter2, the handle of this knife adopts Fatcarbon. Fatcarbon is a series of designed carbonfiber that is available in many different colour compositions and patterns, which make up special patterns on this knife. The same as before, it is the quality of the 20CV blade, with excellent edge retention and corrosion resistance, and versatility for camping, hiking, finishing and more.

Multi Color Fatcarbon Handle Material 
These knives' handles are made of Fatcarbon. FAT Carbon Materials has the most unique and high quality carbon fiber materials. Perfect for knife making. Their amazing patterns and metal infused resins look incredible on any project. This pattern has alternating layers of unidirectional carbon fiber with layers of copper infused epoxy giving it a unique patterned look.  
Model:Towser K

Model Number: Ki4593A2

Overall Length: 7.97"/202mm

Designer:Azo

Opener: Thumb Stud

Blade Style: Cleaver

Blade Length: 3.40"/86mm

Blade Thickness: 0.125"/3.2mm

Blade Material: Elmax

Handle Length: 4.57"/116mm

Handle Material: Fatcarbon

Pocket Clip: Tip-Up

Weight: 4.48oz./127g

Frame/Liner: Stainless Steel

Lock Type: Liner Lock
Specifications Begleiter 2

Model: Begleiter 2

Model Number: Ki4458.2BA3

Overall Length: 7.85"/200mm

Designer: Azo

Opener: Flipper

Blade Style: Drop Point

Blade Length: 3.39"/86mm

Blade Thickness: 0.12"/3mm

Blade Material: 20CV

Handle Length: 4.46"/113mm

Handle Material: Fatcarbon

Pocket Clip: Tip-Up
Weight: 3.5oz./99g

Lock Type: Button Lock

Color: Purple & Black