Donate to Win
Kizer Cutlery S35VN Set: PPY Brass+Raffir (Ki3587A1) PLUS Sheepdog C01c Titanium Gray (Ki4488A4)
Total Retail Value:
$450.00
Donated By:
Kizer Cutlery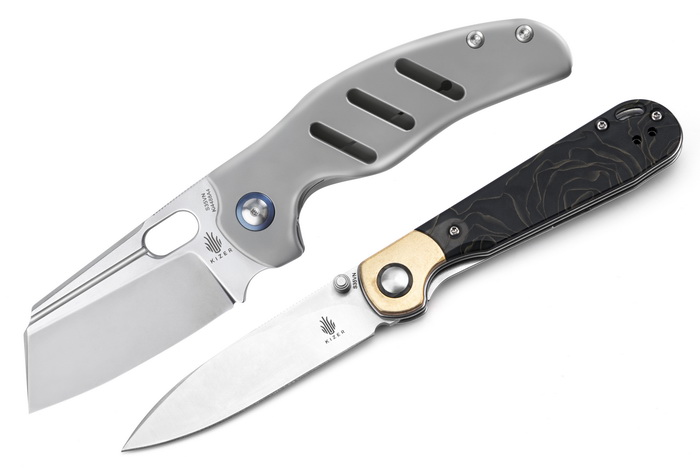 Stock Images – Not to Scale

Designed by Azo , PPY ($246 MSRP)  is a elegant pocket knife. The handle is made of Brass and Raffir, which gives a nice contrast to the handle scales. While the modified Spear point S35VN blade could be your great helper for daily tasks! If you are looking for the perfect size EDC knife, this knife is a good choice. Super smooth deployment, great lockup, and just falls gracefully when one handed closing.
The Kizer Sheepdog C01C ($204 MSRP) features a heavy-duty cleaver design from Chris Conaway of Sheepdog Knives. Premium CPM-S35VN blade steel provides excellent wear resistance and edge retention.The blade deploys effortlessly on a smooth ball bearing pivot, and locks up solid. Skeletonized titanium handle offers top-notch durability and a lightweight frame. This knife offers a remarkable combination of tactical functionality and a refined, stylish appearance.

Specifications PPY
Overall Length: 7.44"/189mm

Designer: Azo

Opener: Thumb Stud

Blade Style: Drop Point

Blade Length: 3.26"/83mm

Blade Thickness: 0.11"/2.8mm

Blade Material: S35VN

Handle Length: 4.17"/106mm

Handle Material: Brass+Raffir

Pocket Clip: Tip-Up

Weight: 3.36oz./95g

Frame/Liner: Stainless Steel

Lock Type: Liner Lock
Specifications Sheepdog C01C
    Overall Length: 7.75"
    Designer: Chris Conaway
    Opener: Thumb hole
    Blade Style: Sheepsfoot
    Blade Length: 3.25"
    Blade Thickness:0.16"
    Blade Material: CPM-S35VN
    Handle Length: 4.50"
    Handle Material: Titanium
    Pocket Clip: Tip-Up
    Weight: 6.17 oz.
    Frame/Liner: Titanium
    Color: Gray