Total Retail Value:
$223.94
Donated By:
Knafs
**** Chosen by Winner:
Michael F.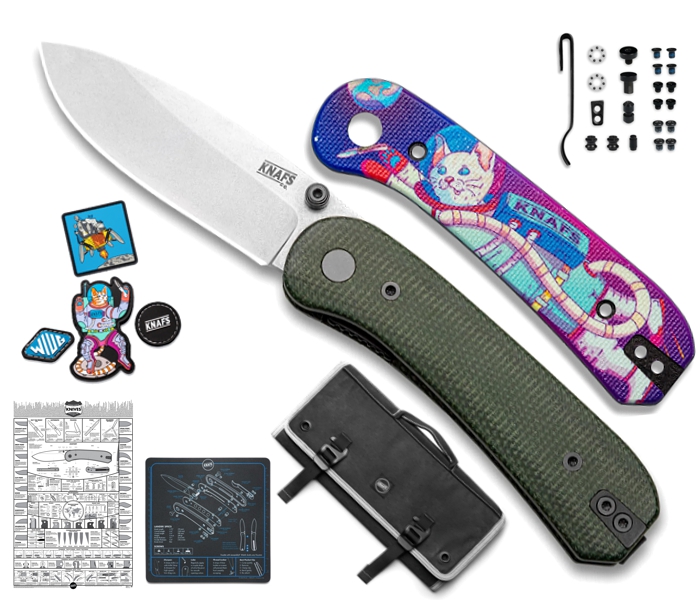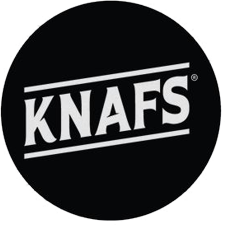 Ben Petersen, founder of KNAFS, has donated a package centered around his Lander folder:
Lander Knife - Contoured Green Micarta + 14c28n ($79.99)
"Where's the micarta?" "I wish it came with micarta." "Does it come in stainless?" "I'd totally get one if it was not D2."
We've heard your cries, amigos. And we have responded! Introducing the Lander, now with Sandvik 14c28n stainless steel, and contoured green canvas micarta scales! Woot Woot!!! Trust us, we're just as excited as you are for this. Who doesn't love micarta? It's soft, contoured, and ever-changing in appearance, and not so slippery when wet. Sorry Bon Jovi... the only thing that could make this Lander any better was an upgraded stainless steel blade. It might sound like alphabet soup, but Sandvik 14c28n steel is nothing to scoff at. Think of it as stainless D2 with greater corrosion resistance, easier sharpening, solid edge retention, AND it still has decent toughness when compared to D2.
This Lander is still a pocket knife of possibility with Fast Swap Scales. They're easy to remove without disassembling the entire knife. Simply unscrew four screws, and you're freeee! If you're unfamiliar with pocket knife disassembly, typically removing the scales can be an ordeal: the entire knife falls apart in your hands, and you've got to retune everything to align all the parts. Not hard, but not fast or convenient either.
Why is this cool? We have a million ideas of ways to customize this knife. We suspect you also have a million ideas. By making the scales in this Fast Swap fashion, it opens up a world of customization. Plus, we've made the scales Open Source via Creative Commons License Attribution 4.0 International (CC BY 4.0)-- users can distribute, remix, adapt, and build upon the scales in any medium or format, so long as attribution is given to Knafs. The license allows for commercial use. We just ask that you link back to Knafs. Simple. Open. Endless possibilities. Download the Lander STP file.
We encourage you to disassemble the knife, tear it down, and put it back together-- no warranty voided for disassembly. We've also built out a Lander Replacement Parts section of our site so you can replace screws, pocket clips, and scales. We want you to own your knife and enjoy it for years to come.
Blade Length: 2.75" (70 mm)
Overall Length: 6.4" (162 mm)
Closed Length: 3.6" (92 mm)
Blade Thickness: .1" (2.6 mm)
Handle Thickness: .4" (10.2 mm)
Handle Material: Micarta
Weight: 2.4 oz (68 g)
Blade Steel: Sandvik 14c28n (HRC: 57-60)
Blade Shape: Drop point
Blade Grind: Flat
Lock Type: Liner Lock
Pocket Clip: Deep carry, recessed, reversible, tip up
Thumbstud: Ambidextrous steel with T6 head
Pivot: Ceramic caged bearings
Country of Origin: Yangjiang, China
OEM: QSP Knives
Designer: Ben Petersen
Lander Knife Scales - Cosmo Kitty Crew ($29.99)
Sfank and his trusty sidekick Gary, our beloved space kitty crew, are floating through the cosmos and have finally landed on, what else... the Lander! It's about time we introduced our first knife to these cute little fuzzballs. You've seen them before on various Knafs merch, but never before on a knife. On the front scale you'll notice Sfank floating into the abyss, chasing a knife that is always just out of reach (something we're sure all you grail-hunting knife enthusiasts can relate to). It goes without saying that you should always double-check your tether before attempting an adventurous spacewalk, and when you do, make sure that you've got your pocket knife with you. Because you never know when Zac In The Wild will exit hyperspace to randomly pocket-check you.
Specs:
Designed in Utah, USA
Made in Yangjiang, China by an incredibly talented group of knifemakers
Manufactured using UV-printed, layered G10 Material
Compatible with all Lander models
Lander Pocket Knife Rebuild Kit ($13.99)
You know how when you start a new project, and you're headed to Home Depot and you think, "I wonder how many times I'll be here before I'm finished?" The answer is nine. At least. I bring this up because sometimes when you take your Lander apart, you don't just need a new clip screw. You need a frame screw, barrel spacer, AND you lost a bearing. This kit is the full deal. If you want to replace nearly every piece of hardware on you Lander knife, get this kit. Includes:
P0050 Scale Screw - Qty. 4
P0051 Clip Screw - Qty. 4
P0052 Pivot - Qty. 1
P0053 Pivot Screw - Qty. 1
P0054 Pocket Clip - Qty. 1
P0055 Thumb Stud - Qty. 1
P0056 Frame Screw - Qty. 4
P0057 Clip insert - Qty. 1
P0058 Stop pin - Qty. 1
P0059 Ceramic Bearing - Qty. 2
P0060 Barrel Spacer - Qty. 2
Does not include new scales, liners, blade, or detent ball. Those aren't available for purchase.
Burrito Grande - Knife Storage Roll ($57.00)
The Burrito Grande is the bigger brother to the Knafs Tool Burrito. Designed to wrap your beloved knife collection in a warm protective waxed canvas tortilla. The Burrito Grande Knife Storage Roll can comfortably hold 17 knives in the main pockets. But that's not all, amigos. This bad boy can even holster 8 pens or edc screwdrivers plus 4 other tools inside the nylon webbing at the bottom. This EDC knife and tool roll not only is a great knife storage option, it also doubles as a knife maintenance mat. It also features magnetic corners to keep your knife screws from vanishing into thin air. The Burrito Grande is everything a knife collector could ever want. But I know what you're thinking... no, it doesn't come with extra guac. Sorry 'bout that.
Did we mention its customizable? Yeah, we provided a very large Velcro top flap to garnish with any hook-and-loop patch you could every dream of. Whether that's an avocado, or a Space Kitty, you can customize this wall-hanger to your individual taste. The Burrito Grande includes a carry handle for easy portability; and aluminum latches to lock up your collection when you're on the go. When closed, you can easily store your beautifully organized knife collection in a drawer or tool box for safe keeping.
To the Moon, amigos!
Specs:
Charcoal color with slate accents
Fits up to 17 small, medium, and Big Banter sized knives.
Velcro top panel for patch collection
Corner magnets keep screws from escaping during tear-down, and they keep the Tool Burrito sealed
Corner grommets for hanging your collection.
Cotton waxed canvas and double stitched webbing edges for maximum durability
Internal form has a rigid backing so it hangs nicely, and it keeps the knives safe when carrying.
Elastic tool seatbelts hold pens or Torx tools like a champ. Small and large elastics add versatility.
Top carry handle and latches for easy storage and portability
Use as a drawer organizer, or decorative wall hanger
Sizing:
Closed: 13.25x6.5" (34x16 cm)
Opened: 13.25x29.5" (34x75 cm)
Designed in Utah, USA
Made in Binh Duong, Vietnam
Does not fit Cold Steel Espada or your grandpa's big'ol fixed blade.
Knife Poster - Lander - Folded ($9.99)
This wild knife chart includes these sweet, sweet features:
• 24 x 36" sizing fits nicely in a standard poster frame
• Designed By Ben Petersen
• Waterproof paper and ink. Hang it in your shower, bro!
• 100+ individual panels about everything from lock stick to butterfly knives
So there I was. On vacation. And my brain started dumping knife information onto a hastily crafted poster. I spent the entire vacation laying out knives and sections on the page: scribbling, crossing out, then doodling blade shapes. When I got home, I spent the next 4 months designing the knife chart in Adobe Illustrator at 5 a.m. What resulted was a sweet hot mess of everything I wish I'd known when I first got into the knife industry. It's a handy reference for the knife nut and a road map to understanding for the knife noob.
I think you'll like it.
Knafs - Patch Pack - 4 Patches ($19.99)
Knafs Space Kitty landing party has touched down! This 4 piece set of PVC patches will pair perfectly with your brand new Burrito Grande! Just slap them onto the hook and loop top flap of your Burrito, or the roof of your truck (Remember smiles-per-gallon matters amigos) or anywhere else you might keep your patch collection.
Patch Pack Includes:
Space Kitty PVC Patch
Lunar Lander PVC Patch
WIUG "What iiiiiiis up guys?!!" Logo Patch
Knafs Black Logo Patch
If you look at the Lunar Lander patch, you'll notice the blade to handle ratio isn't accurate in this patch depiction. It's art, not science. Don't expect your Lander to arrive with a blade that overshoots the handle by a full inch. Although cool, we decided it might not be the coolest when you stick your hand in your pocket. Enjoy!
Made in Guangdong, China.